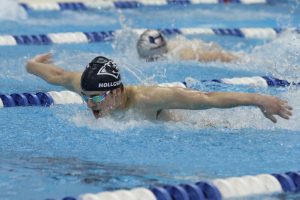 Flower Mound and Marcus High School qualified to compete in 12 events at this year's State Swimming and Diving Meet held on Feb. 19 and 20 at the Lee & Joe Jamail Texas Swimming Center on the University of Texas Austin campus.
Not only did they represent the town well at the biggest competition of the season, but they brought home some shiny hardware as well.
Marcus High junior Lauren Savoy captured the Bronze in the girl's 200-Freestyle event with a time of 1:50.08. Coach Shannon Gillespy said she was pleased with her athletes' effort at state and throughout the season.
"I'm very satisfied," Gillespy said. "All of my athletes swam well throughout the season. At the State meet, we finished with a third place medal in the 200-Free [Savoy] and three school records [Savoy and Ethan Kramer]."
Savoy finished seventh in the 500-Free, with a time of 4:59.56; and, Kramer finished sixth in the 100-Backstroke, with a time of 50.36, after being the first call-up from region.
Savoy will return next year, and Gillespy said her program should have some more talent as well.
"I think things are looking good for next year," Gillespy said."We have some eighth-graders coming in that will be very helpful."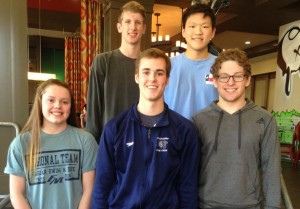 Across town at Flower Mound, Coach Dan Snow said that he was pleased with his team's effort at state as well. Even though things got off to a rough start, his team finished up well.
"I was very proud of how the athletes from Flower Mound performed at the UIL 6A State Championships this year," Snow said. "I think we were a little out-of-sorts for Prelims on Friday, but the kids really stepped it up for finals and really swam big."
The boy's 200-Medley Relay team of Stephen Cheng, Connor Owens, Spencer Woodward and Garrett Hollcroft finished ninth; knocking off nearly one-and-one-half seconds of their time in the prelims the previous day.
Woodward finished ninth in the 100 fly with a time of 50.68; and, Cheng was ninth in the 100-Backstroke with a time of 51.27.
Snow said the season as a whole was a big success and added his team reached several benchmarks throughout the year.
"I am extremely pumped about how well we did this season; not only winning both boys and girls district titles again, but also winning the boy's Region 2 title," Snow said.
The Flower Mound boys finished 13th as a team at the state meet.