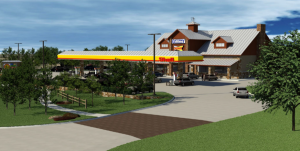 Sonic has hit a setback in Argyle.
The Argyle Town Council on Tuesday didn't support the Feb. 2 P&Z recommendation to approve rezoning of 1.49-acres at the southeast corner of Hwy 377 and E. Harpole Rd. for a Gateway Sonic restaurant and convenience store with alcohol and gas sales.
"The project was denied because the council and many of the Argyle citizens believed that while this would be a great asset for Argyle, the location was not suitable," said Argyle Mayor Peggy Krueger.
The majority of public speakers said they love Sonic—especially the design– and would welcome gas sales, but listed the increase in traffic, trash and that alcohol sales was too close to the high school.
"The TABC (Texas Alcohol Beverage Code) puts the alcohol sales distance at 300-feet from a school," said Community Development Director Matthew Jones. "The distance of the Sonic to the high school was 450-feet, which meets the TABC standard, but people felt it was still to close to the school."
Once the rezoning was denied, the remaining issues were no longer under actual consideration.
"The 'meat-of-it' was under the zoning issue," said Jones. "People didn't have a 'traffic' issue; which will need to be addressed as we develop."
He added that he has been in talks with the broker representing the developer about other potential places in Argyle for the Gateway Sonic.
Zoning Districts
The Gateway Sonic by developer Aqos LLC was the first test-case within the town's new "form-based" zoning districts.
"There are now four quadrants of 'form-based' zoning districts that are the product of aesthetics and function, rather the usual 'land-use' zones in town," said Jones.
The new zoning districts are along Argyle's major north-south traffic arteries. Two of the quadrants are along Hwy 377; the Village Center quadrant runs from Cook Rd. to Frenchtown; and, the Corridor quadrant runs between Argyle High School and Old Town.
"The Village Center [district] doesn't allow gas sales, which is why the developer needed a rezoning request," said Jones. "The new quadrants were adopted as policy, but they didn't rezone the actual property. If a development application comes in under the 'form-based' code; fine. If not, then a rezoning request is needed."