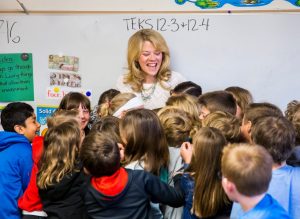 Robin Higgs, a third-grade teacher at Hilltop Elementary in Argyle, was the recipient of a $1,000 check as a finalist for the 2016 H-E-B Excellence in Education in the Lifetime Achievement Elementary category.
Higgs was surprised in her classroom by a group of H-E-B representatives on Feb. 17.
"I am so honored to receive this award from H-E-B and to work with wonderful administrators like Mandi Pels and Kris George," said Higgs. "My 3rd grade team of Linda Pollard, Anita Gumbert,, Kelley Roberts, Laurie Downe, Nancy Nytomt and Valerie Elmen are six of the most professional teachers I have ever had the pleasure of knowing."
Higgs has been in the Argyle ISD for three years, and has been teaching for 24 years. She has a degree from Baylor University in Home Economics and received her teaching certificate and Master's Degree simultaneously from Texas Woman's University.
Created in 2002, the H‑E‑B Excellence in Education Awards are designed to honor outstanding public school professionals and to thank them for their dedication and commitment.
As a finalist, Higgs will travel to San Antonio in May to compete on a statewide level for a $10,000 check for herself and a $10,000 grant for the school.
"Teaching is hard work, however, there is nothing more rewarding," said Higgs. "Teaching young children to respect adults and each other, to help guide them to have the best character they can have and to teach them how to learn is the greatest job in the world!"