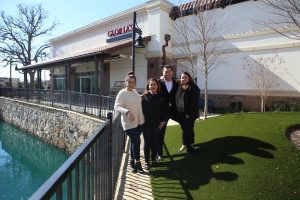 The Fuentes family takes great pride in its "family" of 15 Gloria's Restaurants. And, make no mistake, each Gloria's is nurtured, supported, watched-over and cared for as an individual member of the Fuentes family that it is.
"My parents are still involved in the day-to-day challenges of the restaurants; they don't relax," said Nancy Fuentes, 27, daughter of Gloria's founders Gloria and Jose Fuentes. "They invested so much time and hard work to reach their goals that they aren't going just to sit back and let it go. They don't take it for granted."
She added that she and her older sister, Glenda, 35, learned at an early age what a real work ethic was by seeing how their parents struggled through the hard times that faced the family.
"Sometimes we [the girls] wouldn't get to see our parents every day, because they were working so hard," said Fuentes. "As adults now, we value even more how they showed us what hard work means— not to let anything or anyone bring you down; keep pushing through."
Fuentes said her parents learned all about pushing through bad things when growing up and surviving the decades-long civil war in their native El Salvador.
"They're the best of what immigrants are all about," she said. "Immigrants need to survive here and still help those back home. They [her parents] are exactly what the American dream is all about—if you work hard, you can achieve your goal."
The Fuentes may be the ultimate "helicopter parents" when it comes to their restaurants.
"They both still visit one of their restaurants every day," said Fuentes. "If my father walks into one of them and notices a light doesn't shine down to focus on a table just right, he'll go get a ladder and fix it himself. He also attends pre-shift waitstaff meetings. And, our hand-made tamales are really hand-made. My mother gets up extra early on Tuesday and Wednesday and goes in with one of the chefs and actually makes our tamales with her own hands."
Both daughters are also directly involved with the current 15—soon-to-be 17—Gloria's Restaurants. Glenda handles all the internet gift cards and customer service communications and attention, while Nancy handles the research and development for new menu items and their ingredients. She also takes care of social media and the after-hours Nightlife clubs in the Addison, Arlington, Houston and two Austin Gloria's.
Fuentes said she really loves opening a new restaurant: "It's like a child. You may only get three-hours sleep at first, but it eventually grows and becomes something to be so proud of; it's worth all the effort."
She added that launching a new restaurant is the same way a cruise ship company launches a new ship. At the beginning, all the most senior staff is involved first-hand with the new crew to train and supervise the transition.
"We hire our managers in-house," she said. "A new restaurant's manager has worked from starting as a bus 'boy,' then to work on waitstaff, a bartender and will be watched to see if they have management skills to find candidates as a manager. When candidates are found, they go to each different restaurant location to view and help run it with the existing manager. Those who want to work at the new Flower Mound location will have our help daily, then a check-in a couple of times weekly and so on, until it's deemed safe to leave it in good hands."
The family is aware of how much residents are anticipating the opening, too.
Fuentes said she's excited about the Flower Mound location opening by the middle of March. She said that, unless people have either been to El Salvador or a Gloria's Restaurant, a new cuisine and specialty drink experience is waiting. And, to complete the sensory immersion, diners will get to listen to all the various styles of Latin music. It's so much more than a typical Mexican or Tex-Mex environment.
"It's going to be a different experience," said Fuentes. "I can't wait to give them that Latin spark."
Flower Mound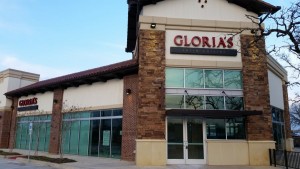 Call it a good omen– or merely a coincidence—but in 2016, the 16th Gloria's Restaurant is scheduled to open in Flower Mound. In keeping with the "1-and-6" theme, both owners—Gloria and Jose Fuentes—were born in 19 … 61 in El Salvador.
As interesting as those little details may be, the important story is that the critically acclaimed, 25-year-old Salvadorian family-owned Texas restaurant group will offer its Latin-based upscale dishes in the new Flower Mound Highlands Plaza shopping center at the southeast corner of FM 407 and Chinn Chapel.
"Gloria's is known for the unique, upscale look of each restaurant," said Carlos Riveroll, operations manager for Gloria's. "The Flower Mound restaurant will feature a unique patio with a large water feature. Half of the 350-diner capacity patio will be covered and enclosable with special heaters for colder months … and, of course, the whole patio will have cooling misters and fans during the summer months."
He was quick to add that although each individual restaurant may have its own style and outside/interior designs, the same menu items and level of service is consistent with all the Gloria's. Their lunch, brunch and dinner menus all feature Salvadorian, Tex-Mex and Mexican dishes made with fresh and as locally-grown as possible ingredients.
"Same food, same service, same quality," said Riveroll, who has been with Gloria's for … 16 years. "The Flower Mound location—in addition to the beautiful patio—will have a 'semi-private' place for groups up to 35 people; not closed, but a more removed area."
Of the already existing 15 Gloria's, five of them feature an after-10 p.m. nightclub/dance club. The Flower Mound location will not have a nightclub.
"The Flower Mound Gloria's will be family-oriented; that's what the [Flower Mound] community is all about," said Riveroll.
The Gloria's Restaurant family should feel right at home with Flower Mound families.