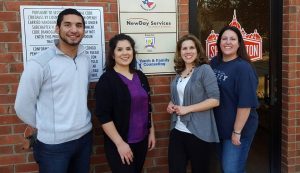 Youth & Family Counseling has opened a second office in Denton at the Serve Denton facility.
Youth & Family Counseling, a Lewisville-based nonprofit, has served residents of Denton County for over 30 years by offering professional family-based counseling on a sliding scale, making it available for all income levels.
"After repeated requests from clients, we are grateful for the opportunity to have our services be more accessible to all of the county," said Youth & Family Counseling Executive Director Eren Turner. "Through Serve Denton, Youth & Family Counseling will be able to make mental health care more available to those in need."
The new location at 1980 E. University Dr. will provide Community Counseling as well as a First Offender and At-Risk Kids Program, which is family counseling for adolescents who are referred by area police departments, courts and schools.
For more information about Youth & Family Counseling, contact Turner at [email protected] or visit youthandfamilycounseling.org
For more information about Serve Denton, contact their Executive Director Pat Smith at [email protected] or servedenton.org