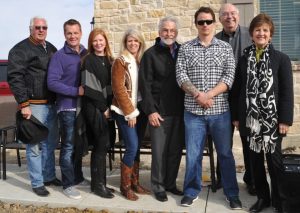 On his fourth tour of duty in Afghanistan, U.S. Marine Sgt. Erich Ellis stepped on an IED (Improvised Explosive Device), while on deployment in June 2012. The result was the amputation of his right leg from the knee down, Ellis underwent ten surgeries within the first 30-days of his injury.
Embodying the characteristics of a true American hero, medically retired Ellis was awarded the Purple Heart for his sacrifice and courageous service.
"We can never repay these severely injured young men and women returning from Iraq and Afghanistan," said RE/MAX DFW Associates President Mark Wolfe. "However, we can show our appreciation for their sacrifice by assisting them on the path to a mortgage-free, fully-furnished home through donations to the Texas Sentinels Foundation."
RE/MAX DFW Associates and The Texas Sentinels Foundation (TSF) recently presented Ellis the keys to a brand new mortgage-free home. The home, located in Sanger in northern Denton County is fully furnished, ADA (Americans With Disabilities Act) compliant and includes a pool and outdoor kitchen.
Former House Majority Leader, Congressmen Dick Armey was on hand to deliver the keynote address at the ceremony.
RE/MAX DFW Associates' agents and staff in Flower Mound raised more than $190,000 to buy the lot and build the home. Michael Cannaday of Precision Builders and his subcontractors donated more than $75,000 in materials and labor.
Also, Sheri Martin of Sheri Martin Interiors designed the interior and finishes. Outside, Robertson Pools donated a custom pool, while BMR Pool & Patio donated the building of an outdoor kitchen.
"Never before in this nation has a comprehensive scholarship of this kind been offered to the members of our Armed Forces who return to us severely wounded or injured," said TSF Executive Officer Susie Barlow.
The Texas Sentinels Foundation scholarship program was developed to assist members of our Armed Forces who were severely wounded or injured in the line of duty on or after Sept. 11, 2001. The program helps recipients re-adjust to civilian life and prosper in their home towns or new communities.
Scholarship recipients receive assistance in the form of mortgage-free housing, new furniture and other household supplies, career placement assistance and training, new adaptive vehicles– based on need– and financial and personal mentorship.
In 2015, TSF contributed more than $1.2 million to wounded warriors and their families; awarded five new mortgage-free, debt-free, ADA-compliant, fully-furnished homes to Texas-based wounded veterans.
The TSF is designed to allow everyone the opportunity to give back to those who have given so much. The homes and aid provided would not be possible without the support of many individuals and businesses.
Means of contribution include, but are not limited to, providing financial and spiritual counseling, forging partnerships with land developers, builders and architects, coordinating fundraiser events, and procuring donations from local businesses.
The TSF is a 501(c)3 organization and all donations are tax-deductible. For additional information on how to help, visit www.texassentinels.org.