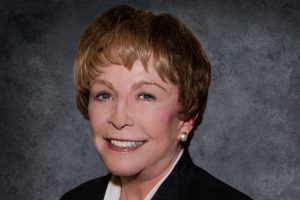 Copper Canyon is very grateful to CoServ for again funding the 5th Annual Denton County Mayors Crime Prevention Luncheon on January 20.  And our special thanks to Tracee Elrod and Dawn Cobb for expediting the arrangements with CoServ. Previously we hosted the luncheon in our Town Hall.  But, the event has become so well attended by Denton County Mayors, County Commissioners, Police Chiefs, and the Sheriff's Office that the event outgrew the space available in our Council Chambers – and our limited parking area.
So, this year we hosted the luncheon at Briarwood Retreat's new Conference Center on Copper Canyon Road.  The Center's new state-of-the-art video and audio system, with four huge wall mounted screens, allowed all attendants to have an unrestricted view of the media presented.  And, the luncheon buffet Briarwood chefs prepared for our 70 guests was delicious!  But, as always, our wonderful Hostess Committee provided the home baked desserts!  Many "Thanks" to Mary Alexander, Kaye Hill, and Donna Yetter for responding yet again to my request for their baking talents! (For information on the new Conference Center contact Sharon Mersiovsky at 940-241-2099 or [email protected].)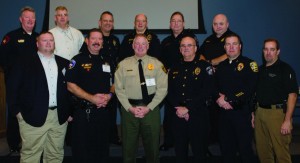 Special Agents from Dallas F.B.I.  provided presentation on "Active Shooters"
Council Member Bill Castleman is our Town's Liaison to Emergency Management.  He invited Supervisory Special Agent Richard Burkhead, in charge of the Dallas F.B.I.'s Critical Incident Response Team and Special Agent John Skillestad from the Frisco Resident Agency/Dallas F.B.I.  The two Special Agents made a riveting Presentation on "Active Shooters."  They made themselves available afterwards to personally answer questions from the many elected officials and law enforcement officers present.
A few interesting facts about Active Shooters:
The location is most often an educational facility or a business;
Only 4% of Active Shooters are female;
The event is not spontaneous – the Active Shooter has carefully preplanned the location and his acquisition of weapons;
The Active Shooter has alerted someone in advance of his intentions;
The Active Shooter has had a definitive negative event in his life – loss of a family member or significant person due to death, divorce, abandonment or rejection – or loss of employment or an educational opportunity;
The Active Shooter uses social media.
Burkhead and Skillestad also brought the Dallas F.B.I.'s huge Mobile Command Post vehicle.  The Special Agents invited the Luncheon guests inside the giant commercial bus-sized van to view its state-of-the-art communications equipment.  Agent Specialist Amy Kenny, Rapid Logistic Response Specialist, was also available to answer questions on how emergency communications function in the field.
Our sincere thanks to Special Agent in Charge (SAC) Thomas M. Class of the Dallas F.B.I. for providing Agents Burkhead, Skillestad, and Kenny for the fine Active Shooter presentation – and for also sending the Critical Incident Response Vehicle so that Crime Luncheon attendees could actually personally view the specially equipped interior space.
At next year's Mayors Crime Luncheon, it will be hard to equal the quality of this year's F.B.I. presentation – but Copper Canyon will once again try!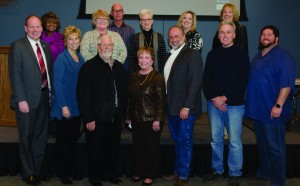 Attorneys from the Brown & Hofmeister law firm review the new "Open Carry" Gun Legislation
The Legislature's new rules for our State on the "Open Carry" of handguns have raised many questions.  The "gray areas" are numerous.  So the second Presentation at the Crime Luncheon was a review of the new "Open Carry" law by three Brown & Hofmeister attorneys.  Name partner Robert Brown and attorney Jeff Moore presented in a Question and Answer format.
In Denton County,  Brown is the City Attorney for Little Elm.  Moore is a legal representative for Hickory Creek, Roanoke, and The Colony.  The legal handout on the subject was prepared by Copper Canyon's Town Attorney Terry Welch, who is also the Town Attorney for Prosper, Texas.  (These three attorneys, and other attorneys in their firm, also represent many Texas municipalities in North Texas, but geographically located outside of Denton County.)
Following are a few questions and answers on the new gun legislation, which went into effect in Texas on January 1, 2016.  New gun legislation effecting State public universities will be effective on August 1, 2016.
What does "open carry" mean? The practice of openly (visibly) carrying a handgun in a shoulder or belt holster on one's person in public. A retention holster is not required.  But it is recommended to ensure that your firearm remains secure while carried openly or concealed.
What are the differences between a firearm, a handgun, and a long arm? A "firearm" means any device designed, made, or adapted to expel a projectile through a barrel by using the energy generated by an explosion or burning substance or any device readily convertible to that use. A "handgun" means any firearm that is designed, made, or adapted to be fired with one hand, such as a revolver or pistol.  A "long arm" means any firearm that is designed, made, or adapted to be fired with both hands, such as a rifle or shotgun.  Because state law governs firearms, and because it does not prohibit the carrying of a rifle or shotgun in a public place, a person is generally allowed to carry long guns in public in Texas.
Can my openly carried firearm be loaded?   The law makes no distinction between a loaded and an unloaded firearm.  However, for safety purposes, every firearm should be treated as if it were loaded.
What are "CHL" and an "LTC"? "CHL" is the acronym for a "concealed handgun license." "LTC" is the acronym for a "license to carry" a handgun.  The two licenses are now virtually indistinguishable.  A CHL will qualify you to open carry a handgun.  The CHL in effect will become an LTC.
I already have a CHL. Will I need to get another license to open carry?   Your CHL will qualify you to open carry a handgun.  The CHL will become an LTC.
I heard there is additional training for open carry. Do I need to retake the class?  No, the new training will be added to the CHL classes required by law now for those required to take the class.  No additional training will be required for current CHL holders.
Can I prohibit persons from openly or concealed carrying firearms in my business by displaying signs described in Sections 30.06 and 30.07 of the Texas Penal Code? (The signs are required to be in English and Spanish and the lettering of a certain size.)    (For example: Kroger allows firearms in its buildings; Whole Foods does not.)
If I am asked to leave a store for openly carrying a weapon, can I cover up the gun and go back in the store if I have a CHL? Yes, unless the store owner or manager asked you not to return, in which case returning would constitute a legal trespass.
Does a person have a right to view a CHL of another person? A person can ask to view the CHL, but the holder of a CHL does not have to show the license to the person UNLESS that person is a peace officer or magistrate.  In addition, a condition of your gun license is that you also show an identification document (ID) with a photo issued by a governmental entity.  (For example, a driver's license or passport.)
Can I open carry in a vehicle?  Yes, as long as the handgun is in a shoulder or belt holster and you have a CHL.  If you do not have a CHL, you still must keep your handgun concealed.
Where can I carry handguns in Texas without an LTC?  The open carry of handguns in public is prohibited, UNLESS the person holds an LTC for a handgun.  An unlicensed person may carry a handgun on his/her private property (or with the property owner or manager's permission) or in a car or boat.  A handgun in a car or boat must be concealed.
I live out of state.  Can I open carry in Texas?    There are no residency restrictions to open carry as long as you possess a CHL or a handgun license from a reciprocating state.
Can everyone open carry? No, a person convicted of certain crimes cannot carry a firearm.  Generally, if you can lawfully possess a firearm, you can open carry with a CHL.  You must be 21 years old to obtain a CHL – unless you are in the military, a veteran, or honorably discharged, in which case you can get a CHL if you are at least 18 years old.  (Federal laws must also be considered when discussing the legality of firearm ownership.)
Where am I prohibited by state law from carrying a handgun? This is only a brief list of places  –  and prohibiting the carrying of firearms may require a prior posted notice to that effect:  a school, school bus, or area of a school activity;  the premises of a private or independent institution of higher learning (i.e. Rice University, TCU) ; a polling place on the day of election or during early voting; a government court or offices utilized by the court; on the premises of a racetrack; in the secured area of an airport under federal law; at a place of execution on the day of execution; a business licensed by the Texas Alcoholic Beverage Commission and which business derives 51 per cent or more of its business from the sale of alcoholic beverages; on the premises of a correctional facility; at an amusement park; on the premises of a church, synagogue, or other established place of religion; at a high school, collegiate, or professional sporting event; in any meeting of a governmental entity that is subject to the Open Meetings Act (city council meeting, commissioners court meeting), if given written notice that carrying is prohibited;  on the premises of your place of employment if prohibited by your employer, but an employee generally may leave a concealed handgun in a private, locked car in a parking lot; on the premises of a state licensed hospital or nursing home (but a mental health clinic is NOT included in this prohibition ???); anytime the handgun is not in a belt or shoulder holster, concealed, or if you are intoxicated or acting in a perceived threatening manner.
Have Law Enforcement Officers and 911 telecommunicators been trained to distinguish between false 911 calls concerning "Open Carry" and legitimate threats?