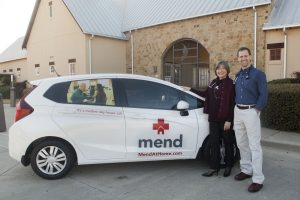 Too ill to get out of bed, get dressed, drive your sick-self to a "Doc-in-a-Box' urgent care center or an ER facility to sit in a waiting room?
Not sure if you can—or should—wait the typical two-weeks to see your primary physician?
Need to drag your well children with you to sit in a germ-contaminated waiting room so your ill or injured child can be attended?
Oh … and what about the trip to the pharmacy—even the drive-thru—to get a prescription?
Those may be the physical realities of your present healthcare situation; but, what about the mental impact when the bill-for-services rendered arrives?
None of those scenarios paint a pretty picture. Fortunately, a new alternative for professional healthcare has arrived in the Flower Mound area. Basically, it brings the old-fashioned house call visit into the present day via a well-equipped vehicle with up-to-the-minute health technology, rather than the "Buick-driving" doctor of the past.
Mend is the Dallas-based mobile urgent-care provider now delivering on-demand patient assessment and treatment directly to patients in a home, office, or other destination setting. It specializes in the treating of common illnesses and injuries, which require prompt evaluation, but aren't serious enough to require a visit to an emergency room.
Mend was launched in March 2015 by Dallas resident and board certified emergency physician, Jonathan Clarke, M.D. A 15-year veteran of the U.S. Navy and U.S. Air Force Reserve, Clarke served wartime tours of duty as a flight surgeon and emergency physician in Iraq and Afghanistan.
"When I left the military in 2012, our family moved to Dallas and I was practicing in the emergency room," said Clarke. "My grandfather was a doctor who treated patients in rural East-Texas and I remember stories of him returning from a house call with a chicken or something else as a form of payment, because his patients weren't able to pay; his house calls were not in a hospital setting."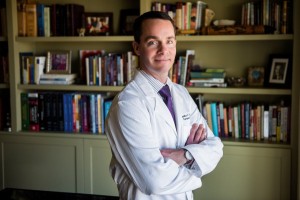 Clarke said his level of frustration started to rise when: "I couldn't even tell them [the ER patients] how much a test was going to cost."  He added that the 1980's insurance-reimbursement policy enactments changed a physician's guidelines in treatment to the quantity, not quality, of procedures.
"In October 2014, the 'light bulb' went off when I realized that most of my time in the military was spent practicing outside a hospital setting— most often in an austere setting in the desert," said Clarke. "Free-standing ER's rub me the wrong way, because they conduct multiple procedures, like blood tests that aren't needed in a non-emergency setting and require a turn-around time. And, if you have a broken bone, they'll do the same thing Mend will—put on a fiberglass splint and refer you to an orthopedic surgeon, but they are not transparent for the cost, which will be 10-times more expensive than what Mend will charge."
He added that a recently published report listed DFW-area healthcare costs as one of the highest in America.
Mend is the next logical step in the progression of more convenient healthcare, from a growing "boutique" practice culture of concierge-style (think of TV's "Royal Pains") primary care physicians, to 24-hour emergency rooms in neighborhood shopping centers.
Mend treats patients from one-year-old to 64-years old. It is not a replacement for a person's regular doctor. Primary care physicians are busy and may not be able to see an ill or injured person right away.
The most common illnesses and injuries in Mend's patient population include: fever; sore throat; cough; rashes; flu; bronchitis; sinusitis; eye-ear-nose and throat infections; urinary tract infections; sprains; minor broken bones; cuts; boils and skin infections; bumps and bruises; and, scrapes.
"My ultimate vision is to engage healthcare professionals to deliver truly on-demand, Uber-style access to healthcare," said Clarke. "Imagine having an off-duty healthcare provider in your neighborhood, who could be at your house in 15 minutes."
More serious injuries, such as those requiring a cast, will be referred to an appropriate facility. Also, Mend doesn't treat or refill medications for chronically painful conditions like back pain, fibromyalgia or lupus.
Mend providers are certified Physician Assistants (PAs) and Nurse Practitioners (NPs), with a minimum of 5 years' experience in acute care and emergency medicine. In most emergency rooms, locally and nationwide, PAs and NPs perform the initial triage assessment of patients and carry a substantial portion of the workload. They perform complex and invasive, life-saving procedures, as well as more ordinary tasks, like placing stitches and draining abscesses.
In addition to their significant experience, all of Mend's providers are supervised by board-certified emergency physicians and have been independently verified and credentialed to guarantee quality care. Every patient record is evaluated by their board certified emergency physicians.
"All of our PAs and NPs also work in local emergency rooms," said Clark. Within Mend's scope of practice, these "physician extenders" provide equivalent care, at a lower cost than physicians performing the same job.
Providing home-visit mobile healthcare in the greater Flower Mound area are two familiar faces—Ken Dakin and Kelly Fox.
Dakin is a Dallas-area native whose undergraduate degree was in Biochemistry and his Physician Assistant (PA) graduate degree is from UT-Southwestern. He has worked in hospital Emergency Rooms in both Denton and Lewisville for more than seven years. This past year, he worked at Double Oak-based Rapid Med.
Dakin and his wife of 13-years, Kerrie, live in Lantana and have three children—ages 13, 9 and 6-years old.
"There are so many great aspects to Mend and a return to in-home visits," said Dakin.  "Something as common as waking up with a bad back or getting knocked-flat with the flu can make just getting out of bed difficult; let alone having to drive somewhere and wait to be seen. And, if you have to take well children to a germ-y place, you just know they'll get sick, too."
Fox has been a Nurse Practitioner (NP) for 17-years and previously before joining Mend had her own practice, Pathway to Health, in Denton.
She and her husband of almost 30-years, David, have lived in the Flower Mound area for 20-years; in Lantana and currently in Copper Canyon, off Chinn Chapel. Their son, Alex, is an artist and works in graphics in IT out in San Jose, Calif. Their daughter, Sarah, followed her mother's path and is a nurse.
"The attraction of Mend and the idea behind it was what brought me to it," she said. "Bringing another facet of healthcare for convenience, to offset how its [healthcare] gone so far from what's good for the consumer. And the fact that people can avoid sitting for hours in a waiting room and getting sick; that also helps keep everyone healthier, which is good. I believe putting the emphasis on the prevention of getting sick."
Should any patient request a live consultation with an MD, the on-site provider can guarantee a Facetime or video conference immediately.
"Our big message is that we want to make health care convenient, transparent and affordable," said Clarke. "To that end, our fee schedule– accessible on our website: www.mendathome.com– could be less than the insurance deductible you'd pay at a free-standing urgent care facility; and we come to you. Also, if a medication is needed, we'll give you your initial dose and our pharmacy partner, Community Care Pharmacy of Lewisville, will deliver that medicine to you. It's all about the patient."
Mend uses several classes of medications that are effective in improving most acutely painful conditions. However, the on-site providers don't carry any DEA controlled substances, such as Hydrocodone, Ultram, or Xanax. Due to strict state restrictions on controlled substance prescribing, they also don't write prescriptions for any DEA Class 2 medications, such as Hydrocodone.
In late-October 2015, Mend became an official affiliate of Children's Health; the first such arrangement in the country for a legacy academic health system strategically partnering with an early stage, health-tech startup less than one year old. As such, Mend– and its employees– is under the liability insurance coverage and credential certification umbrella of Children's Health.
"Mend is incredibly honored to partner with Children's Health. Together, we're building a future of convenient and affordable care for patients throughout Texas and beyond," said Clarke. "Healthcare innovation will occur by moving technology from the hospital, to clinics and eventually into the home. We already see that happening with inexpensive point-of-care testing, portable medical devices and wearable technology."
Clarke said that Mend is the first such mobile healthcare provider in Texas.
"Actually, the first medical house call provider is Pager in New York City, which was started by a technology manager from Uber," said Clarke. "In the past year, the field has gone from none to now 19 nationwide."
Patients can request a same day or next day visit on Mend's free iOS app, website: www.mendathome.com, or by calling customer service at 469-458-MEND.
Patients can pay with a credit card, Health Savings Account (HAS) or Flexible Spending Account (FSA), which can be changed at any time. Mend doesn't accept any health insurance plans currently, including Medicare and Medicaid. However, patients can receive an invoice to file with the insurance company, but Mend may be considered an out-of-network provider.
House calls are made seven-days a week from 8 a.m. to 8 p.m.
For convenience, Customer Service can be reached weekdays from 8 a.m. to 5 p.m. at: 469-458-MEND (6363), or at [email protected].
"We're offering a quality of care that's equivalent to or better than many hospitals and clinics for a fraction of the cost and with far greater convenience for the consumer," said Clarke.