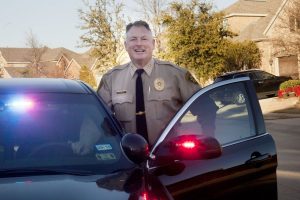 During his first term as Denton County Sheriff, William "Will" Travis has had to learn how to become a master juggler.
On his first day of work on Jan. 1, 2013, the first thing he did was to send a Fed Ex package to the FCC to secure a temporary license for the department's radio system. The previous administration had let the license lapse, which could have resulted in service disruption.
"This was highly irresponsible, knowing its effect on operations would be that anyone could take over that channel and our officers wouldn't be able to communicate, either with us at headquarters or each other on patrol," said Travis. "I got in contact with U.S. Rep. Michael Burgess and with his help we were quickly able to secure licensing renewal with the FCC."
In addition, his first day involved the search for a lost K-9 deputy. The previous administration had delayed an investigation, but a full-scale search initiated by Travis led to the successful recovery of the K-9. The financial and time commitment involved in the dog's training made its recovery a top priority for the entire Sheriff's Office.
Most noticeable to the citizens of Denton County, however, is the number of additional deputies dedicated to patrol the new total of six beat areas—up from four—to cover the 958-square miles of Denton County.
In an effort to reduce crime and calls for service response times, Travis reconfigured the patrol districts covering the county for a better distribution of personnel; especially in Lantana and other densely populated fresh water supply districts in unincorporated areas of the county.
"This year alone, we added six new deputies to the patrol service in an effort to accomplish our goals of reduced response times, increased patrol visibility, crime prevention and control," he said.
Those changes have made a big difference, according to Lantana Crime Watch Captain, Bill Featherstone.
"Both Will Travis and Assistant Chief Deputy Randy Plemons attend many of our Fresh Water Supply District meetings and are always very visible and accessible to our residents," said Featherstone. "It is through Will asking for additional deputies and Commissioner Andy Eads getting the funding that we now have the coverage we need in Lantana."
Travis added that his personnel additions have been educated and experienced professionals who could bring the office into 21st century policing, not one that had been relegated to an antiquated organizational structure.
"I didn't come to the SO [Sheriff's Office] to bring in my old buddies, as was the custom with former administrations," said Travis. "I didn't hire friends that had little or no management experience at the administrative level. The previous office was the epitome of a 'Good ol' boy' structure that needed to go; there was no place for it any longer. People are promoted for a job well-done and with capable management skills."
He pointed to a level of professionalism and accountability never before seen. To that end, a new civil service structure to handle personnel procedures has been instituted. He said he has promoted almost 50 employees to management positions and only brought in a few key personnel from the outside.
Travis added that from the first quarter of being in office, the department has diligently worked with the Commissioner's Court to plan, fund, and implement a $10 million radio project.
The system should have been replaced years ago, but the previous administration had failed to recognize the need to update the equipment and kept in place a system which had originally been used at the 1996 Olympic Games in Atlanta.
"That system is so old, that we have had to buy used parts from eBay to keep it going," said Travis. "It's an analog system and only five people can use it at a time. During the bad ice storm, we had to use our loudspeakers to yell from one side of a bridge to the other about getting supplies to residents; not good. The new system will be P25 compliant (the latest standard for upgraded emergency radio systems); digital and will allow for 10 channels. The public's safety deserves it."
An early audit of criminal investigations property and evidence revealed that more than 30-years of poor record-keeping of inventory and lack of management had jeopardized past and current criminal investigations. Upon taking office, Travis understood the gravity of maintaining an accurate accounting of evidence being stored by the Sheriff's Office.
Travis implemented an ongoing two-year project to account for existing evidence to be used in criminal cases, lawfully dispose of evidence no longer needed, plus identifying property to be surplused or destroyed.
The auditing of investigation and evidence property led directly to the fact that there was no centralized records management function. Tracking the purchase, inventory, and allocation of equipment, supplies and fleet vehicles to manage and reduce the cost to the taxpayers became a priority.
The program has been a success in reducing costs, extending the life-cycle of equipment and vehicles. With a budget of more than $50 million and the largest office within Denton County, it was immediately apparent that a central budget and finance office was needed.
"We now have a records management function in place and are progressively implementing our plan to completely integrate all records into this function," said Travis. "We are now organizing this to be in place by October. Again, it's another function that was needed years ago, but was never identified by the previous administration."
Updating existing—or non-existent—programs also meant changes within the organizational chart of going from three separate jails to only one jail with the completion of the new jail expansion. In essence, there were three independent jails being run differently.
The staff had to be cross-trained to do various different jobs to guarantee no limitations for manpower assignments. They will be able to go where they are needed and perform duties anywhere within the jail organization.
Increased training also has occurred for the "Active Shooter" program to address possible terrorist threats. Constant training involves not only the SWAT teams, all of whom have former military training in their specialty areas, but also the patrol deputies and communication staff; plus coordination with the area fire marshals and school resource officers. There has also been increased security and safety at the court facilities, which had never been done before; it had always been an afterthought.
Also implemented the first year of his administration was Project Safe Lake; an effort to increase safety and security awareness at local lakes. The Sheriff's Office covers the three major holidays, Memorial Day Weekend, Fourth of July Weekend and Labor Day Weekend.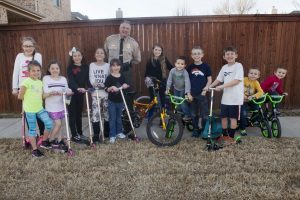 Travis recently created the Volunteers in Police Service (VIPS) program to engage the public in partnering with the Sheriff's Office to address public safety issues. VIPS volunteers work in their communities and schools with Denton County deputies on crime prevention and awareness programs.
Of all the many professional duties Travis has, his involvement with community relations is the one he most enjoys. He personally attends between six to eight functions a week—civic events, CASA (Court Appointed Special Advocates), Rotary, Lions, and Journey to Dream, a newer charity that helps homeless teens. He and his officers are continuously involved with the public to enhance community relations.
Travis sits on the boards of the Cross Timbers Family YMCA in Flower Mound, Heroes of Denton County, and Texas Jail Association. He is also a volunteer firefighter with the Argyle Volunteer Fire District.
"Will has a strong community presence and an extensive list of organizations he serves beyond his badge. He is committed to the young families of this community and strives to make Denton County safe for us all. Additionally, he is emotionally and physically invested in this community and continues to lead us by example and integrity," said Lantana resident Kathryn Flores.
The educational training programs– Stay Safe and the Juvenile Impact Programs—have been successful for teaching awareness and prevention. Teaming with the School Resource Officers who are on campus ensuring not only the safety of the students, but to be of service to them and the educators.
"Whenever I can get out in front of a kid; I'm there," said Travis. "I've been to every fifth-grade graduation since I took office. I'm the last speaker and talk to the students about bullying, no alcohol or drugs, no sexting—and then I get to hand out the diplomas. If I'm out there working and touch just one life, then it's one less kid we won't see in our facility. That's what it's all about."
Travis said that the upcoming election should be about the progress he and his team have made and the effect it has had on the community.
"Burglary is down, theft is down, property crimes are down, and we've taken over $100 million worth of narcotics off our streets. We have accomplished a lot in the short time we have been in office," he said.
"It's not about me, it's about the public and those who work at the Sheriff's Office.  I want to give them [the staff and deputies] the best tools and environment to do their jobs effectively. We still have a lot to do to make this the Sheriff's Office I have envisioned that the Citizens of Denton County deserve."