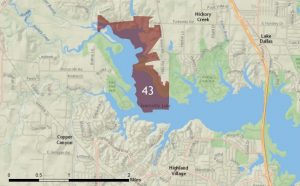 There is a potential environmental and health catastrophe in Denton County's backyard—literally.
The Bureau of Land Management (BLM) will auction oil and gas leases for its holdings under Lewisville Lake on April 20. A total of 43 parcels and about 37,000-acres will be up for bid.
Flower Mound Mayor Tom Hayden has requested Town Attorney Bryn Meredith to draft a resolution for deliberation during the Feb. 15 Town Council meeting expressing the town's concern about drilling next to one of the town's largest water sources; and, the potential for negative consequences.
The Flower Mound resolution would follow letters of concern already authored and sent to the BLM by both the Upper Trinity Regional Water District and the City of Highland Village [see below].
The Fort Worth District, U.S. Army Corps of Engineers (USACE), which manages the lake for the federal government, continues its efforts to repair the 161-foot long embankment slide, which occurred during the floods of 2015 at the 58-year old Lewisville Lake Dam. The recent slide is adjacent to a previous slide in June 1995.
According to a previous news release, Bristol General Contractors, LLC, the slide repair contractor, has been on site and moved in its construction office trailer for the on-site supervision of the $6.4-million repair of the embankment slide.
On Dec. 16, 2015, Col. Calvin Hudson, commander of the Fort Worth division of the USACE, spoke in a press conference to the media about the problems of the Lake Lewisville Dam and ensured the public of its stability during a press conference at the Lewisville Dam.
Concerns about possible fracking repercussions on a dam still under repair are legitimate.
According to the Dam Safety Action Organization (www.damsafetyaction.org), the Texas Dam Safety Program develops a list of dams that includes: details as to their location; ownership; hazard classification; and, Texas EAP (Emergency Action Planning) status.
A major factor in concern about dam safety and the need for EAPs is the age of many dams. Many dams become a greater hazard as they continue to age and deteriorate. While hundreds of them need to be rehabilitated, lack of funding prevents the work.
This list is continually updated and provided to the U.S. Army Corps of Engineers for the National Inventory of Dams (NID). However, parts of the USACE Website are now password-protected for national security reasons.
In recent years, the Texas Commission on Environmental Quality (TCEQ) has withheld some of the Texas dam information from the public, in compliance with provisions of the Texas Homeland Security Act of 2003 and a February 2005 state attorney general's opinion that hazard classifications and EAPs are exempt from disclosure under the state's Public Information Act.
If a High-Hazard Potential (HHP) dam is located near an area where people live, work, travel or have recreational activities, it is important that the dam have an Emergency Action Plan. The only recourse may be to phone the Dam Safety Program office, 512-239-5195, and ask about the EAP status of a dam that is of concern. [Editor: at press time, there has been no response to our request for information.]
In the January 2016 issue of Insurance Journal magazine, an article (based on a Dallas Morning News report) questioned the USACE's assessment of the Lewisville Lake Dam.
On Jan. 21, 2016, a YouTube video recording of a City of Denton water staff representative commented on recent media "shock-and-awe" scare articles.
Anyone wishing to protest the sale must do so in writing. Protests must be received by the bureau by Feb. 19, either by mail or fax.
Protesters must state their interest in the matter. If protesting on behalf of an association, partnership or corporation, writers must declare their relationship to the group and their authority to protest.
Protests may be faxed to 505-954-2010, or mailed to: Bureau of Land Management, New Mexico State Office, 301 Dinosaur Trail, P.O. Box 27115, Santa Fe, N.M. 87502-0115.
For more information, visit: www.blm.gov/nm.
The Upper Trinity Regional Water District is not convinced that sufficient precaution is being taken by BLM to protect the water supply in Lewisville Lake, a source that many local communities depend on for essential water supplies, according to a letter that Thomas E. Taylor, Executive Director, sent to BLM.
"The lake, and especially the Hickory Creek arm of the Lake, is already under other risks of potential pollution; therefore, a goal of gaining additional revenue may not be sufficient justification for adding another risk on top of those that already concern communities who depend on Lewisville Lake for their life-source water. Accordingly, we are compelled to protest the planned auction on April 20 of mineral interest adjacent to and under Lewisville Lake."
The City of Highland Village has submitted a protest letter to BLM as well.
"Lewisville Lake is the City of Highland Village's primary supply of potable water to our residents. The City Council took this affirmative protest action based on the concerns about the risks of fracking beneath Lewisville Lake and the potential contamination of drinking water."
Those interested in submitting a letter of protest to the Bureau of Land Management should mail or fax a letter to the following.  Protest letters must be received by BLM by close of business on February 18, 2016.
Amy Leuders, Director
Bureau of Land Management
New Mexico State Office
P.O. Box 27115
Santa Fe, New Mexico 87502-0115
Via Fax: 505-954-2010
Julie Ann Serrano, Lead Land Law Examiner
Bureau of Land Management
New Mexico State Office
P.O. Box 27115
Santa Fe, New Mexico 87502-0115
Via Fax: 505-954-2010
Bidders must register between 8 and 9 a.m. in the lobby at Hyatt Place, 4320 Cerrillos Rd., in Santa Fe, N.M. prior to the auction. To date, none of the parcels have pre-sale offers, according to bureau documents.
Lewisville Lake Dam
Lewisville Dam is in Denton County, with an elevation of 486-feet. It contains 2.3-million-acre-feet of lake, which provides electricity, drinking water and recreation for North Texans. A break in the dam would be a possible threat to the hundreds of thousands of North Texans who live downstream.
Its geographic location is:  Degrees Minutes Seconds– Latitude: 33-04'07" N, Longitude: 096-57'52" W [Decimal Degrees: Latitude: 33.0687325; Longitude: -96.9644507].