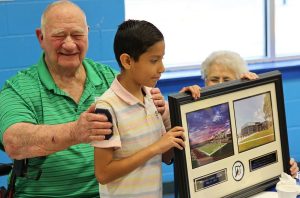 Bill Carrico, a longtime coach and athletic director with the Denton Independent School District, died Sunday at the age of 79.
Carrico worked as a teacher, coach, assistant principal and athletic director before retiring in 1997. He is revered around the community for his role in helping integrate Denton High School in the late 1960s and early 1970s as well as for his consistent involvement with current and former students as a mentor.
"Bill Carrico is the epitome of what you want an educator to be – tough, patient, kind and understanding," said Dr. Jamie Wilson, Denton ISD superintendent. "He had a knack for making a connection with everyone he met, whether they were 8 years old or 68 years old. To say he's going to be missed is an understatement."
Carrico's impact on the community was apparent last year, when the Denton ISD Board of Trustees unanimously voted to honor his legacy by naming the athletic facilities and fieldhouse at the soon-to-open Braswell High School as the Bill Carrico Athletic Complex. He even recommended the district hire Dr. Ray Braswell, who would become the district's superintendent and serve for 13 years, as a teacher and athletic trainer in 1979.
"It's really nice to have so many people say so many positive things about you to get an honor like this," Carrico told district officials upon learning of the honor in 2015. "And it's fitting to receive this honor with Ray. I'm a little older, but we did a lot of things together, always talked about how to do things right and live our lives right. It's a tremendous honor that we'll always share."
 While he may have retired two decades ago, Carrico was still leaving an impact in the district. He served on the Grandparents in Public Schools task force since its inception in 2001, mentored students at Borman Elementary for several years and could always be found cheering his beloved Denton Bronco athletic teams.
"Coach Carrico was more than a football coach or educator – he was a mentor, counselor, advisor and dear friend to many," said Dr. Braswell. "His influence went far beyond the playing field and classroom because he loved his students, players and staff and would do anything he could – at any time – to lend them a helping hand. He will be missed."
A graduate of Denton High School in 1955, Carrico went on to star on the offensive line for North Texas State University (now the University of North Texas), earning All-American honors in 1959. He was inducted into the UNT Athletic Hall of Fame in 1993 and was named to the university's All-Century Football team in 2013.
His commitment to Denton ISD and education remain with his daughter, Happy, who currently serves as principal of Newton Rayzor Elementary and was the principal at E.P. Rayzor Elementary in Lantana for five years.
 Memorial services for Coach Carrico will be held at 4:30 p.m. Friday, Feb. 19, in the main sanctuary at Denton Bible Church. A reception will follow in the fellowship hall.
In lieu of flowers,  donations can be made to the Bill Carrico Scholarship Fund with the Denton Public School Foundation.