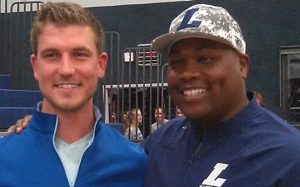 Each year, Liberty Christian's Baseball Team begins its season with Media Day that includes photo ops, introduction of freshman to varsity players, and a visit from a professional athlete.
Last year, Jason Witten of the Dallas Cowboys spoke to the team, and this year, Liberty welcomed 2008 alumnus and Oakland A's Major League Baseball player Carson Blair. His older brother, Elliott, 2006 alumnus and minor league baseball player, has also been a guest at Liberty's Media Day.
Carson talked with the team about what he wished he would have known when he was in high school.
"Be well rounded," he said. "I wish I would have taken advantage of learning how to speak another language well or how to play a musical instrument.
"Go to homecoming – go to the prom – take advantage of all the wonderful opportunities you have by being at Liberty – make the most of your time here."
Carson also encouraged the team to develop confidence, confidence that comes from preparation.
"As an athlete, confidence isn't just in physical abilities but also in the time and work you put into the classroom," he said.
He also talked about performance cues he tells himself, phrases he rehearses in his mind that help him in practices and games to make right reactions automatic.
"Lastly, set goals," he said. "Dreams are just dreams until you write them down."
He described how one of his goals in high school was to pay for college himself, which he achieved. One of his goals now is to be an MLB All-Star.
He told players that big goals can be intimidating and overwhelming, so he encouraged them to break goals down into daily routines that day by day, just like crossing a river stone by stone, can get them to their destination.
He closed by taking questions from the audience and sharing what it felt like to hit a home run at the Texas Rangers stadium, what his daily routine looked like in the offseason, and how his Christian faith has helped him in his baseball career.
"The real world can be brutal," he said. "I am so thankful for Liberty. Being well equipped in the Christian principles I live by is an invaluable lesson I learned here that has helped me immensely in my baseball career."