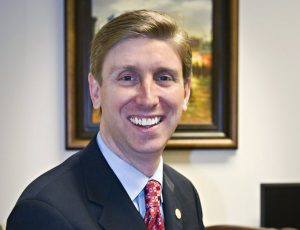 Our nation has been blessed in the last 240 years with many capable and strong presidents who have proven to be great champions in times of difficulty and tremendous need.  With Presidents' Day upon us and the many birthdays of key former presidents in the month of February, it is the time to pause a moment to recall the background of this patriotic day.  It is also an opportunity to remind voters that our country is poised to select a new president that will be charged to unite our country and lead us in prosperity.
The story of how Presidents' Day came to be dates back to 1800. Following the passing of President George Washington in 1799, his birthday on February 22nd was commemorated as a perennial day of remembrance.  At the time, and still known today as the "Father of Our Country," Washington was revered as the most influential figure in American history. While Washington's Birthday was an unofficial observance for most of the 1800s, it was not until the late 1870s that it became a federal holiday.  At that point, Washington's Birthday was one of four other nationally recognized federal holidays — Christmas Day, New Year's Day, Independence Day and Thanksgiving.  It was also the first to celebrate the life of an individual American.
Eventually, the shift away from simply Washington's birthday began in the late 1960s when Congress proposed a bill to change the observance. The bill was known at the time as the Uniform Monday Holiday Act and included a provision to combine the celebration of Washington's birthday with the birthday of one of the most admired presidents in American history, Abraham Lincoln, whose fell on approximately February 12th.  As two of America's most famous statesmen, many supported the combining of the two memorializing days as a way of giving equal recognition.  As the years have passed, more chief executives fell into the category of being born in February too, including William Henry Harrison and one of my personal modern-day political heroes, Ronald Reagan.
While Presidents' Day has become popular as a day to recognize the lives and achievements of all of America's chief executives, it's important to remember one thing: this day originated because of two pivotal leaders that shaped our country.   As we celebrate their legacy in American history and the important ideals they instill in our patriotic values on February 15th, we must remember how important it is to exercise our constitutionally protected right to vote in the upcoming primary and general elections on Tuesday, March 1st, and Tuesday, November 8th, respectively.
The field to become the next U.S. president is currently filled with a multitude of candidates, but in the March 1st primary election each political party will have a chance to select a nominee to represent their party in the general election. Although we may not all agree on who should fill this seat, it is imperative to make certain that our voice is heard.  It's a right and freedom that has been fought for and fiercely protected for all of us.
In addition to the presidential candidates, your primary ballot will include candidates from state and county offices.  Should you wish to obtain a sample ballot and other important information about the upcoming elections including your precinct number, where to vote, help for special needs and election details, visit the Denton County Elections Department website at www.votedenton.com or call (940) 349-3200.   The Texas Secretary of State website, www.votetexas.com also has an array of information about voting procedures.  Select early voting locations will be open across the state of Texas on Tuesday, February 16th and will continue through February 26th.
As an American and Texan who has been incredibly honored to be a public servant, it is my hope that our next president will lead our United States in the spirit of our early forefathers and is ready to be the voice for the millions of individuals who are blessed to enjoy the freedom to cast their vote in the upcoming elections and live in the greatest country in the world.
As always, it is an honor to serve you in the Texas House of Representatives and I welcome your feedback on this and any other critical state issues.  If you would like to share a thought with me, please feel free to contact me at my Capitol office at 512.463.0688 or by e-mail at [email protected].