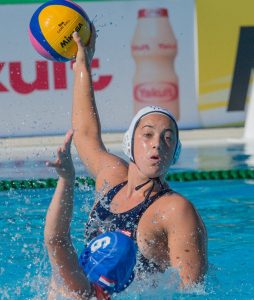 Coach Joe Linehan of the Flower Mound Thunder Water Polo team said the sport can be one to enjoy for a lifetime. He has been passionate about it for as long as he can remember.
The Lewisville ISD Westside Aquatic Center, which recently hosted the USA Water Polo Champions Cup, a 14U National Championship, welcomes international water polo for the first time this month.
Linehan has been a driving force behind getting the defending Women's Olympic Gold Medalist Water Polo team to come to the LISD Westside Aquatic Center. It will be a great opportunity to learn about the sport from some of the world's best athletes.
"USA Water Polo has wanted to bring some things to Texas, and I've been working with them," Linehan said. "This was an event that we thought we could handle this year."
The six-country tournament will run from Feb. 16 to 21. A qualifying event for the 2016 FINA World League Super Final, this event will feature the reigning Olympic and World Champions in Team USA alongside Australia, Brazil, Canada, China, and Japan.
The USA Women are coming off a banner 2015 where they finished with a record of 41-6, while earning gold at the Pan American Games, FINA World League Super Final and FINA World Championship.
The Thunder Water Polo Club has hosted national competitions in Denton County the last two Novembers. Linehan said that this month's international competition will be huge.
"Its official name is the 'FINA Women's Intercontinental Cup,'" Linehan said. "What this is, is a yearly tournament that is a qualifier for another tournament later on. With this being an Olympic year, this is the best and the brightest those teams have to offer."
The top four teams from this event will qualify for the FINA World League Super Final set for June 7 to 12 in Shanghai, China.
The sport of water polo has grown exponentially in North Texas in recent years; jumping from three high school programs in 2009, to 35 programs this school year– along with four youth clubs. The rest of the state has seen significant growth as well.
"There's a thriving water polo community in Texas," Linehan said. "It's gone from about 30 or 40 teams throughout the state that were playing back in 2008-2009, to now 125 plus teams, and now we are right on the doorstep of becoming a UIL sport."
Admission during the week to the event is free to LISD Students, USA Water Polo members and Thunder Water Polo members; admission for everyone else is $5, with three games played each day. Over the weekend, admission is $5 for those three specific group members and $10 for everyone else.
Visit www.usawaterpolo.org/sports/w-senior/spec-rel/010516aac.html for more information.
Water Polo Facts 
– This is the only year that every single championship within FINA in all categories belongs to the United States.
-Water Polo is the oldest team sport in the modern Olympics, featured first in the 1904 Olympic Games in St. Louis.
-In 2012, the U.S. Women's Team won its first Gold Medal in the sport of Water Polo, although they have also medaled in every Olympics, since it was first introduced for women in the year 2000.