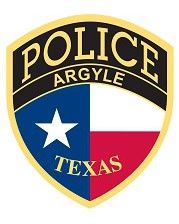 The following is a summary of incident reports recently made to the Argyle Police Department as compiled by the staff of The CTG:
On Dec. 8, at 10 a.m., in the 1200 block of FM 407, a vehicle was losing boxes and one hit a passing vehicle. The driver was told to secure the load better.
On Dec. 11, at 6:42 a.m., a major accident was reported on I-35W at the 71 mile marker involving the driver being ejected from a grey pickup, which then rolled over him.
On Dec. 11, at 2 p.m., a complaint was called in about a dead cat with a get-well-soon balloon tied on it in the road in front of Argyle High School.
At 4:41 p.m. on Dec. 12, on the I-35W north exit 76 ramp, a black Volvo S60, a red Toyota and a red GMC Sierra had pulled over for Medics to pass and one of the vehicle rear-ended another.
On Dec. 12, at 7:15 p.m. on I-35W southbound at the 79 mile marker, a driver in a black Hyundai Accent was tailgated by a driver in a small white Ford. When the Ford's driver passed, he pulled and pointed a black handgun at the caller. The suspect was not found.
On Dec. 13, at 3 a.m., a harassment charge was made regarding the sale of a cell phone from a homeowner in the 300 block of Red Bud. The woman who sold the phone was not happy with the buyer who lives at that address and said she had planned to report the phone as stolen.
On Dec. 13, at 5:35 p.m., a caller reported hearing 10-to-12 large caliber shots fired just west of Old Justin Rd.
On Dec. 14, at 9:47 a.m., a homeowner in the 900 block of Skyline Dr. reported trash dumped in his driveway and his mailbox was stuffed with junk mail from a homeowner who lives in the 300 block of Red Bud and a bottle of ketchup was squirted over the mailbox.
On Dec. 16, at 12:50 p.m., a homeowner in the 900 block of Skyline Dr. called to report a suspicious car with a black male driver had been parked at the end of her driveway. He drove off at a high rate of speed when he noticed her driving down her driveway.
On Dec. 17, at 10:40 a.m., a wheel came off a vehicle and hit another car at the intersection of Hwy 377 and FM 407.
At 7:30 p.m. on Dec. 17, a caller reported hearing gun shots from a high-powered rifle coming from the Dove Creek and Fox Run area. The responding officer was flagged down and informed the caller that it was fireworks.
On Dec. 18 at 4:48 p.m., a two-car accident at FM 407 and South Gibbons Rd. involved a black Chrysler Sebring and a white Chevy pickup truck. One male driver was holding his side with a possible broken rib and another male was on the ground. One of the men tried to flee with the discovery of possible narcotics in a cooler.
On Dec. 19, at 12:45 p.m., a white 1984 Corvette with Oklahoma plates ran off the road into a ditch at FM 407 and Stonecrest Rd. The owner called to say he'll get the vehicle moved, but was currently attending a memorial service for a relative at Cross Timbers Community Church.
On Dec. 19, at 4:15 p.m., a phone call came from the owner of a house in the 300 block of Red Bud regarding information that a police "raid" was being planned to arrest the caller's ex-wife. Upon officer arrival, a second man said a third man had assaulted his fiancé–the ex-wife of both the first and third man– the second man wanted the third man arrested. The second man was out on bond for having assaulted the third man with a beer bottle.
Four hours later, the second man was calling to say he believed his fiancé had been kidnapped by her ex-husband [no indication which one] and that they might be traveling in a blue Ford Explorer with a Confederate flag across the hood. The caller was removed from the premises by the female homeowner, the fiancé/ex-wife's sister or sister-in-law, possibly. The officer spoke with the fiancé/ex-wife, who was at the Roanoke Walmart with both her ex-husbands and was fine.
On Dec. 20, at 1:30 a.m., police responded after someone broke the front window of Subway and all the lights were off at the breakers at the back of the building.
At 9:17 p.m. on Dec. 20, a woman called regarding harassment from the boss of a group of movers who said she still owed him $400. The caller's mother was at the location on Collin St. and the caller would be arriving there in 10 minutes. The mover said if she didn't pay up, he'd send his people "to take it out in another way." After the officer arrived, the woman called the mover and told him that if he wanted more money, he needed to send her a bill or something else in writing. The man became irate, cursed several times and then hung up.
On Dec. 23, at about 3 p.m. on I-35W at mile marker 78, a call came in reporting a reckless male driver in a black Ford F150 with a trailer almost ran the caller off the road, got in front of the caller then slammed on his breaks and when the caller drove alongside, the driver yelled vulgarities and "flipped off" the caller. The truck driver continued driving southbound swerving and "zig-zaggin.'"
On Dec. 23, at 10 p.m., a resident in the 300 block of Red Bud reported a concern about his daughter being held against her will by her boyfriend. Previous incidents by APD had tracked the couple down to Austin, then as homeless up in Denton. An officer reached her and she said she was okay and safe. The caller said he believes there's stolen property at his house and asked for an officer to investigate. This is the fifth call in 10-days involving the same address on Red Bud.
On the following day at 2:30 p.m., another call came from the home in the 300 block of Red Bud, but made by a woman, who reported an older model red car was being painted and the tags were being changed from Arkansas to Missouri. Officers spoke with same man the previous day, who said the car is his grandson's.
On Dec. 28, at 10:11 a.m., a woman called saying her lawyers had told her to call police whenever her husband was intoxicated. She said they had met in the 1200 block of FM 407 to speak with each other, but he was not sober and kept saying he's recording her, and she doesn't want him to take her child. The woman said there are assault charges against him.