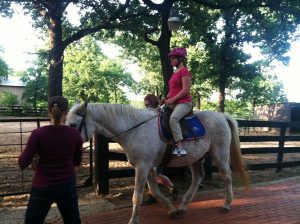 SpiritHorse Therapeutic Riding Center in Corinth has closed its doors due to financial difficulties.
The nonprofit riding center specialized in offering free horseback riding to children and adults with disabilities.
SpiritHorse was founded in 2002 by Charles Fletcher on his ranch after he retired.  It has grown to 77 licensed centers nationally serving over 1,600 riders each week. The Corinth location served 400 North Texas families each semester.
Fletcher posted this statement on Facebook regarding the closure:
"It is with indeed great sorrow that I am compelled to announce that due to heavy financial losses, we are forced to close our client riding and driving program until further notice. We have enjoyed so much providing therapy to your wonderful children and will miss them very much. We have investigated every alternative and there is none. If we continue our losses will be monumental! Providing over 200,000 free lessons has been very difficult over the past 14 years. There is simply no way to recover. The staff has been so grateful to work with the wonderful SpiritHorse families over the years and is looking forward to continue this healing at nearby Equine Therapy Centers. Thank you all for your kindness and support. God bless!"