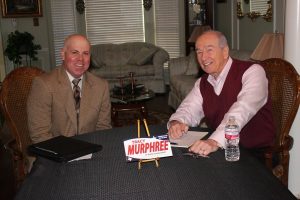 As we get closer to the March 1st primary the races are heating up and more people are paying attention to the candidates.  A major reason is because candidates are busy finding well-traveled areas in which to place their signs, mailing literature to registered voters, going door-to-door to meet residents throughout their respective districts and attending debate forums. Another method of getting their message out is by using newspaper interviews and social media.
The Denton County Republican Party is using its webpage (www.dentongop.org) to attach video interviews in order to allow voters to see and hear from the candidates. All video interviews are done by request of the candidates and all candidates are welcome to tell voters about themselves, their reasons for running, their knowledge of the position, etc.
Recently, Tracy Murphree, candidate for the Republican nomination for Denton County Sheriff, came over for an interview that included a video. Information from his campaign website (www.murphreeforsheriff.com) illustrates his background, including his law-enforcement experience.
"I was born and raised in Yoakum County, Texas. After graduation I attended McMurry College in Abilene Texas where I played football and majored in history with a minor in political science. In 1988 I was accepted into the Texas Department of Public Safety Training Academy and was commissioned as a State Trooper. I was assigned to Cochran and Hockley Counties. In 1993 I transferred to Denton County. After only a few months I promoted to Sergeant in the Texas Highway Patrol and stationed in Pecos. In Pecos I supervised 12 Highway Patrol Troopers in five counties."
Further info provided by his webpage includes: "In 1996 I was promoted into the Texas DPS Narcotics Service and stationed in Houston. I conducted narcotics investigations including working undercover. Worked on many major drug and currency seizures working together with the DEA, FBI, Houston PD, and Harris County SO. In 1998 my lifelong dream came true I was selected to be a Texas Ranger and assigned to Denton County. I also covered Cooke County. As a Ranger I was responsible for major investigations including homicide and public corruption. During my time as a Ranger I was involved in most of the major investigations and trials in Denton County. During my time as a Ranger I was awarded the DPS Directors Citation for my work in acting as a hostage negotiator and successfully negotiating the release of two hostages being held by armed jail escapees."
For more info on Mr. Murphree's campaign for Sheriff please view the video below.
Bob Weir is a long-time Flower Mound resident and former local newspaper editor.