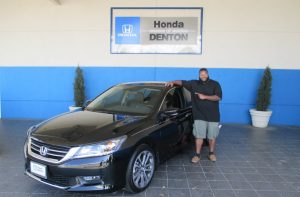 Each year Honda of Denton and Toyota of Denton partner with local schools and nonprofits to help their fundraising efforts.
The dealerships will host their 2016 Community Support Raffle at 10 a.m. Saturday, May 14, at Toyota of Denton, 4100 S. I-35E, Denton, TX 76210.
Schools or nonprofit organizations can use this opportunity to raise funds for specific projects by selling raffle tickets and 100 percent of the money raised goes to the school. The tickets are sold for $2 each and the school or organization decides where the funds are allocated.
"It was Jim McNatt's vision to give back to the community. Here at Honda of Denton we are proud and honored to carry on this tradition," said Rob Tharp, General Manager/Partner.
Last year the raffle raised over $300,000 for all of the participating organizations. This year their goal is to raise $400,000. Since 2006 the Community Support Raffle has raised a total of $1.3 million dollars for the community.
One vehicle is given away for the program each year. The winner of the raffle will have their choice of a brand new car or truck from Honda of Denton or Toyota of Denton. They can choose a Honda, Toyota or Scion vehicle with an MSRP of $30,000 or less.
The dealerships pick the tax, title and license. The winner does not need to be present to win, but must be over the age of 18.
To support your local schools and nonprofit organizations you can purchase tickets from any participating organization listed on the Honda of Denton website at communitysupportntx.com.
Southern Denton County school organizations participating this year include: Argyle Band Boosters, Guyer Basketball, Guyer Girls Soccer, Guyer Spanish Club, Liberty Christian Solar Car, Marcus Band, Marcus Boys Basketball and Marcus Cheer Spirit Club.
Call 940-535-7707 for more information about the raffle.