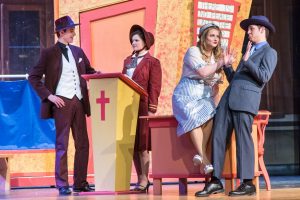 "Guys and Dolls" opened in 1950 and ran for 1,200 performances. In Flower Mound, it opens on Feb. 4 at 7 p.m. with added evening performances on Feb. 5 to 7, plus a 2:30 p.m. matinee on Sunday.
The plot revolves around the relationships of two couples: master gambler Sky Masterson (Chandler Sinks) and Sgt. Sarah Brown (Rachel Ditzig) of the Save-a-Soul Mission; and, Miss Adelaide (Bailee Goodman) a performer and owner of The Hot Box nightclub, who's "allergic" to being single, and her fiance of 14-years, Nathan Detroit (Tad Broadbent) who runs "The Oldest Established" Crap Game in New York with help from his right-hand man, Nicely-Nicely Johnson (Matthew Spretz).
Throw in a group of gamblers looking for a place to play, the police shutting down all the locations, an ear full of cider, a bet for a "guy" to take a "doll" for a dinner in Cuba, a slapped face, another bet for the gambler's souls and a broken engagement all lead to the logical conclusion that: "the guy's only doin' it for some doll."
The Tony Award winning musical, with music and lyrics by Frank Loesser, includes such standard popular songs as "Luck Be A Lady," "If I Were A Bell," "A Bushel and A Peck" and "Sit Down, You're Rockin' the Boat."
"The time and talent put forth by students, faculty members and parent volunteers make it possible to present these hugely entertaining musical productions every year," said Scott Taylor, FMHS Theatre Arts department head. "We are indebted to the cast and crew—from costumers to set architects—and to the audiences who continue to support our efforts."
The book (story line) was by Abe Burrows and Jo Swerling and based on two Damon Runyon short stories, plus characters from other Runyon stories. The play was also selected as the winner of the Pulitzer Prize for Drama in 1951, the trustees of Columbia University vetoed it based on Burrow's problem with the House on Un-American Activities Committee (HUAC);the political hunt by Sen. Joe McCarthy for supposed-Communists in the entertainment industry.
The play is best-known from the 1955 moving version with Marlon Brando, Jean Simmons, Frank Sinatra and Vivian Blaine, the only cast member from the original Broadway show.
"Guys And Dolls" performances are at the FMHS Jack & Donna Clark Auditorium, 3411 Peters Colony Road in Flower Mound. Tickets are all reserved and cost $20, $15 and $10.
For more information, visit: www.fmhstheatre.net.
About the Flower Mound High School Theatre Arts Department
The Flower Mound High School Theatre Department has produced more than 87 acclaimed plays, monologues, improvs and award-winning musical productions. The experienced faculty includes Scott Taylor, Keli Wilson, Dean Robertson and Michael Valentine.
The FMHS Choir, Orchestra, Band and Theatre Arts fine arts departments collaborate on the annual musical production that features a cast and crew of more than 175.
For more information or to learn about the upcoming season, please call 469-948-3628 or visit www.fmhstheatre.net.