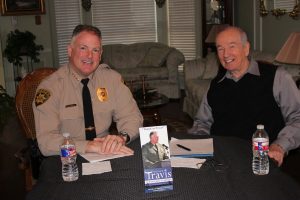 With early voting in the Texas Republican primary beginning in a couple of weeks the candidates are busy placing their signs on the sides of roadways, mailing literature to registered voters, going door-to-door to meet residents throughout their respective districts and attending debate forums. Another method of getting their message out is by using newspaper interviews and social media.
The Denton County Republican Party is using its webpage (www.dentongop.org) to attach video interviews in order to allow voters to see and hear from the candidates. All video interviews are done by request of the candidates and all candidates are welcome to tell voters about themselves, their reasons for running, their knowledge of the position, etc.
Recently, Denton County Sheriff Will Travis came over for an interview regarding his campaign for reelection. Information from Travis's website (www.williambtravis.com) outlines several accomplishments, namely: "Since taking office, Sheriff Travis has enacted tough-on-crime policies to keep Denton county families safe. Because of pro-active law enforcement and the implementation of new technologies, we have seen a dramatic reduction in crime and the amount of drugs on our streets."
It also lists some results of the Sheriff's Department's policies, to wit: "Bookings are up, aggravated assaults are down, property crimes are down, burglary is down, larceny-theft is down, motor vehicle theft is down, arson is down, and more than $100 million worth of K2, Methamphetamines, Cocaine, Marijuana and other illegal drugs have been confiscated."
The page also lists some of the "policies and programs put into practice by Sheriff Travis to make law-enforcement more efficient and more effective for the people of Denton County." Among those policies are: "Cracking down on human trafficking, fighting against marijuana legalization, implementing technologies for effective crime prevention, enhancing officer safety, improved training for deputies and personnel and community policing and outreach."
Travis has one opponent in the GOP primary; Tracy Murphree, who has also been offered a video interview.
The primary election is on March 1st, but, early voting begins on Feb. 16 and continues through Feb. 26. In the accompanying video Sheriff Travis answers questions about his background, education, experience, and his role as the top law-enforcement official in the county.
Bob Weir is a long-time Flower Mound resident and former local newspaper editor.