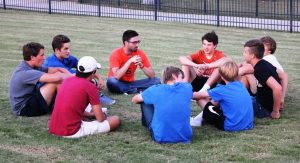 Step into a house full of teenagers on any given Monday night and you'd probably expect to see a group of girls intently focused on "The Bachelor" or a group of boys cheering on their favorite team. However, step into a cozy home in Liberty Crossing on a Monday night and you may be surprised to see a group of around 30 high school students willingly sacrificing their Monday evening to worship their Creator.
SOAK, a Bible Study designed for high school students, takes place on Monday evenings at 6:30. Each Monday night begins with a time of food, friends, and fellowship. Thoughts of impending papers and math homework are drowned out by student-led worship. The atmosphere of the room makes it clear that students are there not for their friends or even for the catered food, but instead to focus on one thing: their Savior.
After a brief 10-minute sermon, students split into their "SOAK groups," where students gather with a small group of friends to discuss the application and impact of the lesson. This group time serves to create new friendships founded in Christ, while also giving students a chance to share personal struggles and victories with a faith-based support system.
Students are encouraged to serve others in any capacity by pursuing their God-given gifts and talents. From documenting the evening with student photographers to writing and leading original worship songs, students are built up as leaders, prepared to firmly represent Christ and pursue His plan for their future.
For more than five years, SOAK has provided a time of spiritual encouragement and renewal to students seeking Christ-centered friendships and a strong bond with their Maker. God consistently and undeniably shows up among Christ-centered conversation and godly relationships.
Students are encouraged in their personal struggles and prayed over by their peers, amidst deep conversations that answer questions such as "What are you putting above God?" and "What does Proverbs 2 mean by 'seek God's wisdom'?" At SOAK, teachers and mentors truly exemplify Jesus' instruction in Matthew 28 to "make disciples" by raising up the next generation as leaders and representatives of God's powerful love.
Written by Kelsey Hovanetz, Liberty Christian junior