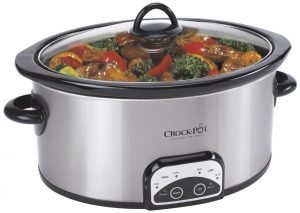 by Courtney Davis, Denton County Extension Agent – Family & Consumer Sciences
As a mom with two young girls, evenings at my house are hectic. It's a marathon trying to get everything done.  One thing that has made this time a little less hectic in my household is the slow cooker…my favorite kitchen appliance.  There is nothing I love more than coming home after a hard day at work and smelling the aromas of a delicious, nutritious supper that is already prepared for my family.
The slow cooker is a great tool that can actually be used year round.  This appliance uses less electricity than an oven and it doesn't heat up your house like an oven tends to.  Also, it's a great way to cook inexpensive cuts of meat – often very lean and tough if not cooked correctly using other methods. Most importantly, using a slow cooker is simple; just follow these principles.
It is important to periodically test your slow cooker for accuracy.  Fill the cooker 1/2 to 2/3 full of water and turn the cooker on LOW and allow it to heat for 8 hours.  After 8 hours, check the water temperature.  If the temperature reads 185-200 degrees, you're in good shape.  If the temperature reads less than 185 degrees, we recommend that you replace your cooker.  If the temperature reads above 200 degrees, there is a chance that your foods will be overcooked unless it is stirred during the cooking process.
Be sure to handle your ingredients safely and keep all perishable ingredients refrigerated until they are placed in the slow cooker.  Never place frozen meat or chicken in a slow cooker as this will prevent your food from heating properly and could allow bacteria to multiply during the cooking process.  Always thaw your meat before placing it in the slow cooker.
Because slow cookers come in all shapes and sizes, follow your manufacturer's instructions regarding the amount of food that can be added to a slow cooker. Adding too little could result in a much faster cooking time while overfilling can result in undercooking. A general rule of thumb is to fill your slow cooker between 1/2 to 2/3 full, with vegetables on the bottom as they tend to take longer to cook.
Cooking your food on low is recommended for all day cooking (8 hours or more) or for preparing the less tender cuts of meat.  If desired, you can get a head start on the cooking process by letting the slow cooker cook on "high" for the first hour and then switching to the low setting.  The "warm" setting found on some cookers is only recommended for foods that area already cooked and are hot.  This setting is not recommended for cooking or for reheating cold foods.
The more you open the lid, the longer it takes to cook, and not as efficiently! Check for doneness by using a calibrated food thermometer to make sure that meat and poultry dishes have reached a safe internal temperature (beef, pork, lamb, steaks and roasts to 145 degrees; poultry to 165 degrees and ground beef to 160 degrees).
Here's a delicious, nutritious recipe for Slow Cooker Pork Cacciatore and is a great way to sneak in some vegetables for even your pickiest eaters.  For more recipes, visit dinnertonight.tamu.edu and enjoy!
Slow Cooker Pork Cacciatore
1 can (14.5 ounces) diced tomatoes, undrained
1 can (6 ounces) tomato paste
1 large green bell pepper, chopped
1 packaged sliced fresh mushrooms
1 small onion, chopped
Italian seasoning to taste
1 pound pork tenderloin
2 cups whole grain penne pasta, cooked
1 tablespoon cornstarch
¼ cup water
1 cup part-skim shredded mozzarella cheese
Mix tomatoes and tomato paste in the slow cooker until well blended.  Stir in vegetables and add Italian seasoning.
Cut meat into 8 pieces.  Add to slow cooker; cover and cook on low 4 to 4.5 hours.
When meat has reached 145 degrees, remove meat and cover to keep warm.  Mix cornstarch and water until well blended.  Add to the sauce; stir.  Cover and cook for 6-8 minutes.  Return meat to dish.
Serve over whole grain pasta and with a side salad for a complete meal.
Serving Size 1 cup.  4 servings per recipe.  470 calories; 10g fat; 75mg cholesterol; 810 mg sodium; 55g carbohydrate; 9g fiber; 44g protein.
Courtney Davis is the Denton County Extension Agent for Family and Consumer Sciences.  She can be reached at 940-349-2882 or [email protected].