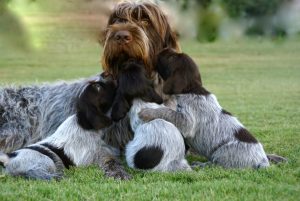 He looks like something out of a Harry Potter movie, or perhaps something a Hobbit might ride. And, either of those things would be just fine with him. He's one mellow dude.
His name is Bear. Actually, his registered AKC (American Kennel Club) name is: GCH, CH, THDD, BEAR HUG CEE BARRY ROCKBRIDGE JH NA (NAVHDA); right, just Bear is much better. He's not the fussy type.
Bear's an eight-year-old Wirehaired Pointing Griffon, a very rare sporting dog. He's an upland pointer and a water retriever with two protective coats and web feet. Only about 800 "Griffs" are born in the U.S. each year.
"We got Bear after our two Old English Sheepdogs died when they were 15-years-old," said David Boehner, Bear's owner. "My daughter knew we weren't ready to replace our sheepdogs, but she discovered the Wirehaired Pointing Griffon breed and said it would be perfect; she was right."
Boehner found a breeder in South Carolina, but all the pups in the litter were already taken. In the meantime, he was able to get a female pup, Mandy, from a different breeder in Arkansas. No sooner had Mandy been adopted than the South Carolina breeder called, asking: "Are you still interested in a male … I've got one for you."
Bear proved to be an outstanding puppy in an exceptional breed.
"We put him in obedience school when he was five-months-old … he was bored to tears," Boehner said. "He was seen by a very well-known show trainer, Pat Stouter of Crawford, and she thought he'd be a natural show dog to represent his breed."
Stouter knows her dogs.
"He'd never even been to a dog show, but in his first-ever show in Stephenville, he took first prize, not only for his breed, but Best of Show," said Boehner. "He followed that same prize-level with wins at shows in Dallas and Fort Worth. She showed Bear for a year and he became an International champion—an AKC Champion and an AKC Grand Champion. He qualified to be in the top 25 dogs to be invited to nationals; in the top five in his breed to go to Westminster. Bear was a four-time Westminster Kennel Club show participant."
By the time Bear was two-years-old, however, it was time for him to move on and do what he really loves—helping people; especially children and those in need.
Before moving to Flower Mound during the fall of 2015, Bear lived with his family in Waco.
"I started training Bear to be a therapy dog with the national Pet Partners Registry through Baylor [hospital]," said Boehner. "He'd been so great with people at the shows, especially the children; I thought he'd be a natural."
As good as Bear was at being a show dog and an AKC hunting title winner, he excelled as a therapy dog.
Bear is the first winner of the AKC Distinguished Therapy Dog Award for all breeds in the U.S. and his tower of ribbons is a rainbow more than three-fingers in height. He's really not interested in all his awards and credentials; he just really likes people.
Boehner and Bear were the only pet therapy dog team visiting victims of the West fertilizer explosion in Waco Hillcrest Hospital, as well as the victims of the biker gang shooting in Waco.
To date, Bear and Boehner have given nearly 3,000 hours to the sick, poor and reading-challenged as a therapy dog team.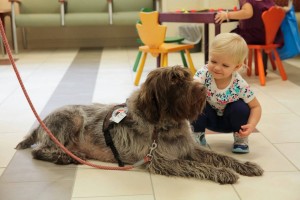 "When we help a student needing reading therapy, we get the whole library to ourselves," explained Boehner. "To get children past their discomfort of reading aloud, they learn to give Bear commands like, come, sit, down, and so on, in a very loud voice; Bear loves it. Then, they learn to raise their voices to that same level to read. It works great."
When Bear travels to places for work, he wears his vest and is allowed to be the first to board the flight.
"It's wonderful to see people's faces as they come in and see him there," said Boehner. "Even people who are afraid to fly smile and relax when they see him. It's always a happy flight when Bear's aboard."
In addition to his many perks, he is only one of two dogs ever allowed to visit the top of the Empire State Building.
Bear is currently serving the Medical Center of Lewisville on Mondays and Wednesdays. He visits all the wards—especially those for children—and is a favorite in the chemotherapy area.
"He'll put his leash in his mouth and 'walk' himself up and down the corridor and he gets funnier each time," said Boehner. "It's great to hear the laughs and chuckles coming from the cubicles."
Boehner added that on a recent hospital visit, one of the children was confined to her bed and couldn't reach Bear to pat him. He jumped right up on the bed in front of the doctor, who told Boehner to leave Bear on the bed after seeing the happiness on the little girl's face.
In January, Bear will also begin serving the Denton Regional Medical Center.
Bear and Mandy, an award winner in her own right, have 41 offspring living across the country. He's as good a father as he is everything else. Watching him play with his puppies and letting them crawl all over him is quite a sight.
"Most male dogs don't have anything to do with puppies," said Boehner. "He's just a special dog."