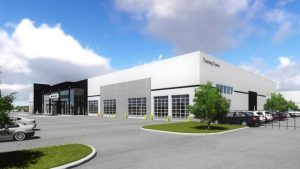 Thanks to a partnership between the Town of Flower Mound and the City of Grapevine, Mercedes-Benz, USA (MBUSA) announced plans to construct two facilities on a 50-acre site at the Lakeside Parkway and Enterprise Road intersection, situated in both Grapevine and Flower Mound.
The proposed project incorporates two facilities: a regional Parts Distribution Center (PDC) designed to support the sales and distribution of spare parts along with a Learning & Performance Center (LPC). The facilities are expected to open in 2017.
The LPC will be relocated from Houston to the Grapevine/Flower Mound location and will serve as a high-end technical training facility for its Mercedes-Benz dealership technicians throughout the Southwest region.
"This is a tremendous accomplishment for both communities," said Flower Mound Mayor Tom Hayden. "This project is a great example of how two cities can work together for the good of the region."
Once fully operational, the 59,000 square-foot training facility will employ approximately 50 full-time employees, with the ability to train up to 200 technicians per week. The Parts Distribution Center is expected to be 254,000-square feet when complete.
"Mercedes-Benz is a global brand known for its quality products and innovative workforce," said Flower Mound Economic Development Director Mark Wood. "Both communities worked hard to secure this project and we look forward to celebrating together at the upcoming groundbreaking ceremony."