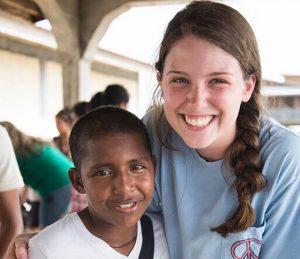 "I like to help out with people and try to make people happy," said Erin Templer. "It's hard to explain, but I just like helping people."
The Flower Mound High School sophomore has been on two mission trips within the last year and is involved in a couple of service groups within the Flower Mound community.
Templer is a member of the Riverside Church of Christ in Coppell, and made a mission trip to the Dominican Republic over Christmas break where they gave school supplies, toys and clothes to the children at the school. She also completed a mission trip to Honduras over the summer.
Templer said she enjoys doing what she does because it gives her a sense of fulfillment.
"At my church, we have things thing call the Magi project," Templer said. "We take boxes and fill them with items for children of a certain gender and age and then we filled all the boxes and shipped them to the Dominican. Then we took it to a school, and did a Christmas drop there."
Templer is also a member of the JV volleyball team and part of the Fellowship of Christian Athletes.
She is also a member of an organization called I Am Second.
"It's a small group thing on Fridays before school," Templer said. "It's like a study thing. It's a devotional. We just go to the fieldhouse and one of our coaches leads us in a devotional."
She would like to work in the medical field when she grows up and said she thinks the biggest issue confronting society today is pretty serious.
"Right now, I think it is the poverty everywhere," Templer said. "It's good people are helping."
Templer's grade point average is 4.2 and is ranked 302 in a class of 959.
Templer's Favorites
Favorite Athlete: Misty May-Treanor
Favorite Sports Team: Texas Rangers
Favorite Subject: Math
Favorite Food: Macaroni
Favorite Movie: The Blind Side
Favorite TV Show: Gray's Anatomy
Last Book Read: Side Effects May Vary
Favorite Musical Group or Performer: 21 Pilots