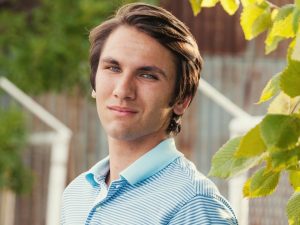 Ben Khoshbin can enjoy a good political debate and a good soccer game, and sees great value in pursuing multiple personal interests.
The Liberty Christian senior is the Student Body President at the school and carries a 3.52 grade point average and said that he will never take for granted the lifestyle he has been afforded.
"I have just been so blessed to be given the opportunities that I have," Khoshbin said. "I know that there are not a lot of kids out there that have not been given the opportunities that I have, so I feel that I would be cheating myself and my parents if I hadn't taken full advantage of the life I've been given."
Khoshbin is an officer in the Young Republicans Club and captain of the boys' soccer team and said the thing he enjoys the most about attending Liberty Christian School is the camaraderie that exists among the students and faculty.
"I really enjoy the sense of community I feel when I walk in the door," Khoshbin said. "I feel like everyone there is on my side. I know that when I go off to college I won't have professors who will not only take the time to help me with class work, but also help me with my life…I have been helped so much with my walk in my life and my faith. I am just immensely thankful."
Khoshbin also runs track, where he competes in the 800 meter event and mile, and competes in TAPPS Academics in speech and debate.
He said if he was President of the United States for a day and could do one thing, it would be to remind Americans of the sentiments of his favorite Commander in Chief.
"I suppose that I would just reiterate the message of my favorite president, John F. Kennedy, who said, 'Let every nation know, whether it wishes us well or ill, that we shall pay any price, bear any burden, meet any hardship, support any friend, oppose any foe to assure the survival and the success of liberty,'" Khoshbin said. "I would just reiterate that. I believe we have an obligation to protect and promote democracy and freedom around the world."
Khoshbin plans to attend either American University in Washington, D.C. or SMU and major in International Studies with a focus on National Security and Counterterrorism.
Khoshbin's Favorites
Favorite Subject: History
Person who most inspires me: Father
Favorite Food: Sushi
Favorite Movie: The Departed
Favorite TV Show: The West Wing
Book Currently Reading: Rendezvous with Destiny