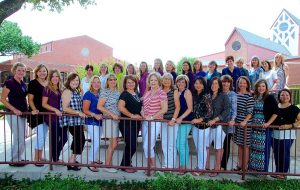 by Mark Miller, Contributing Writer
What started as a place for young children to enjoy a day away from home has turned into a successful pre-school and kindergarten program that soon will celebrate a major milestone.
Though the official date of 30 years for Trietsch Memorial United Methodist Church's Enrichment Center (TEC) isn't until September, there will be a family fun evening Feb. 13 to commemorate the occasion.
The event, which will take place from 5-8 p.m., also will serve as a fundraiser for the more than $25,000 needed for new playground equipment. It will include dinner, silent and live auctions, and plenty of children's activities.
"The program is an outreach of the church which serves children ages 2 through Kindergarten," said Trisha McWilliams, TEC's director since 2010. "It's a developmentally-appropriate pre-school program that offers multi-sensory experiences in a Christian setting."
The center takes up 12 rooms in the complex's basement each with lead teachers and an assistant. Of the 30 overall staff members, 16 have been there more than 10 years. Each day, which lasts from 9 a.m. until 1 p.m., is based around play.
Someone observing in a classroom window might think the children are "just" playing when using play-dough, shaving cream, or finger-paint. When, in fact, that is exactly what they are doing.
TEC uses a self-developed curriculum based on play.  Every activity that the children are involved in has a purpose.  Each classroom is set up for children to experience a different learning center that promotes areas of development like math, language, science, large and fine motor skills, music, and literacy.
"We believe that play is a child's work and that every activity is planned with a purpose," McWilliams said.
When Linda Lee founded the center in 1986, only 46 children (infants through 4-year-olds) attended in the sanctuary. With Flower Mound still quite rural, Lee had to personally pick up snacks and supplies since nobody would deliver.
Infants were dropped from the program after a few years with Kindergarten classes being added in 1995. The program has served as many as 275 children in 2000-2001 with 200 children enrolled today.
"It makes my heart happy that we can share the love of Christ with the children and families every day," said McWilliams, who followed boss Lynette Jones, director from 2002-2010. "The gift of longevity among our staff, their educational and experiential expertise, and the passion for serving children and families, makes for a wonderful Christian work environment."
Contact Trietsch Memorial United Methodist Church's Enrichment Center at 972-539-8547.