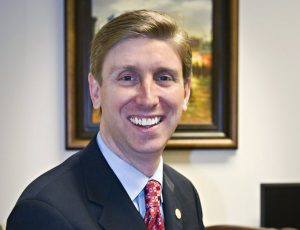 Like many people, bringing a focus to wellness in the New Year always finds its way to the forefront of my personal health goals.  Yet outside the promise of more exercise, better nutrition, and trying to negotiate a little more sleep as the father of two teenagers, there remains an area that sadly is often overlooked when we think of wellness – and that is one's mental health.
Unfortunately, much of the increase in public awareness of mental health recently has arisen from tragedy that later seems avoidable only if some sort of intervention had taken place.  As a public servant who will always keep the health and safety of citizens my highest priority, I felt the focus on health was an opportunity to further the dialogue.
Mental health and improvement of services from the state has been an important topic of discussion and debate.  Prior to the start of last year's 84th Legislative Session, the State of Texas looked at how we could more efficiently deliver health services.  As part of the Texas Sunset Process, a requirement that state agencies are placed under review by the Legislature to make certain they are managing their resources correctly and serving their intended purposes, recommendations were made regarding the consolidation of several health and human services agencies to better serve Texans. As a result, two pieces of Sunset legislation, along with several amendments in the state budget, expanded what the state provides for improving mental wellness and allows better partnerships with local service delivery agencies.
Additional bills of interest from the last Legislative Session include Senate Bill 55 authored by Senator Jane Nelson, which expanded the Texas Veterans Initiative grant program to support community mental health programs for veterans with mental illness.  Additionally, Senate Bill 239 by Senator Charles Schwertner, addresses the Texas mental health professionals shortfall by establishing a program to provide loan repayment assistance for medical health professionals who commit to working in underserved areas of the state. We also increased behavioral health funding in the two-year state budget by approximately $245 million to a grand total of $1.8 billion per year over the 2016-2017 biennium.
While your Texas legislature has made substantial progress to address mental wellness, there is still more that must be done.  This interim, Texas lawmakers are working on a broad range of issues that include aspects of mental health and support services.  In November, the House Select Committee on Mental Health was organized and directed to review the state's behavioral health system. With increased concerns about the rise of mental health across Texas, this committee is expected to take a proactive approach while evaluating this issue and provide recommendations as to how we combat mental illness in the future.
While lawmakers look at statewide funding and policy issues, I am also excited about the collaborative efforts being made by members of our community.  Specifically, United Way of Denton County organized the Denton County Citizens Council on Mental Health (DCCMH) to bring together a critical group of local leaders focused on system change. Their frequently held meetings and difficult discussions led to the Council shifting from fact-finding to implementing a plan of action. As a result, the Denton County Behavioral Health Leadership Team (DCBHLT) was formed in June of last year as the policy-making team to improve the planning, coordination, oversight and implementation required to create system changes in behavioral health services. In July, five workgroups launched focusing on the areas of child and family systems, housing, jail diversion, mental health court and veterans followed by a 6th one for Consumers that formed in August.
By working together and sharing ideas, experience and testimonials, the DCBHLT has a vision to provide comprehensive behavioral health for every person in Denton County. Through passionate advocacy, they are on track to facilitate a collaborative person-centered behavioral health system to repair and restore lives.
Mental health support and treatment opportunities must be a topic we can openly discuss and embrace as a growing community.   Whether we are setting goals for the New Year, planning public policy or uniting as concerned citizens for change, I hope this information is helpful in considering the importance of keeping one's mind fit for a healthier, brighter future.
It is an honor to serve you in the Texas House of Representatives, and I welcome your feedback on this and other issues.  If you would like to share a thought, please feel free to contact me at 512.463.0688 or e-mail at [email protected]