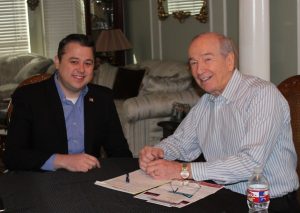 Every two years we have the Constitutional right to vote for our local representatives in the largest lawmaking body in the United States. All 435 members of Congress are on the ballot on even-numbered years, giving their constituents across the country the opportunity to rate their respective performances in past years.
This year, Republican Congressman Michael Burgess, who was elected in 2002, and reelected six times, has two opponents vying for the Republican Party nomination in the Texas March 1st primary. Joel Krause and Micah Beebe have thrown their hats in the ring to take on the seven-term congressman.
Recently, Argyle resident Micah Beebe, sat for an interview to explain his reasons for running.
He expressed his concern for the lack of leadership in the GOP, especially after they became the majority party in the House and Senate. "We're headed down the wrong path, and things don't seem to be getting better," he said. "Republicans have a majority, yet, they don't seem to be using it," he added.
In his campaign literature, Mr. Beebe states the need to get government off the backs of the American people and allow the private sector to create jobs, the way it was intended. In reference to the Second Amendment, he believes every American has the right to keep and bear arms; a right that should never be taken away. "Our Founding Fathers had the wisdom and understanding to know how important it is for people to have the right of self-defense."
In the video below, Mr. Beebe talks about his reasons for running and the issues he believes are most important to the future of our country. You can learn more about him at: www.beebeforcongress.com.
Bob Weir is a long-time Flower Mound resident and former local newspaper editor.