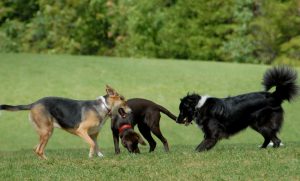 Area residents are invited to bring their dogs, cheer on Flower Mound officials as they cut a ceremonial ribbon, and enjoy cake and refreshments before letting their four-legged friends enjoy exploring the town's first dog park later this month.
Flower Mound Parks and Recreation will hold a grand opening and ribbon cutting celebration for the highly-anticipated Hound Mound at Heritage Park, on Friday, January 29, at 4 p.m. Goodie bags will be given out on a first-come-first-serve basis.
The Hound Mound, located at 1200 Garden Ridge Blvd. in southeast Flower Mound, will partially open following the ceremony.
Weather has caused some delays in construction, particularly the establishment of sod, officials said. Because of this, portions of the park will open in the spring.
A Parson Russell Terrier named Paddy was the push behind resident Elizabeth Covington's desire to bring a dog park to Flower Mound several years ago.
Covington, who addressed town council at a meeting in April wearing a t-shirt bearing a photo of Paddy who died six years ago, said she had worked on bringing a dog park to town for years, even bringing a petition with at least 400 signatures to the town council.
Council members voted in April to approve a $796,710 construction agreement for the dog park as part of Phase 2 of Heritage Park, that will also eventually include demonstration gardens, a park trail, and an 18-hole disc course.