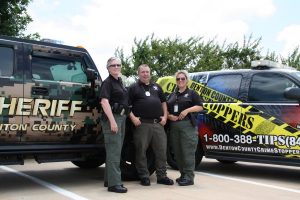 Lantana Crime Watch Captain Bill Featherstone has scheduled a Crime Watch Meeting for Tuesday, January 19, at 6:30 p.m. at Lantana Golf Club for interested residents.
Randy Plemons, Assistant Chief Deputy of the Denton County Sheriff Office will speak on the topics of how best to relay information to police when calling 911 and the state's new Open-Carry Law.
Residents who wish to attend the meeting can RSVP by replying on the Lantana Crime Watch Facebook page or by calling Featherstone at 214-616-7153.
Interest in the Crime Watch is up after several suspicious incidents were reported in late November.
Sheriff's deputies were called out the night of November 29 to investigate a suspicious man on Pitaya Drive in Bandera. Deputies responded and searched the area with a K-9 but did not locate the prowler.
There were also reports posted on social media of someone turning doorknobs late at night in the Sandlin and Bellaire neighborhoods, and teenagers damaging outdoor Christmas light displays.
Sheriff's officials urged anyone who sees suspicious activity to immediately dial 9-1-1 and always lock your front door, garage door and side gate. Also, keep your porch light on or have a motion detector light that turns on when somebody comes near your home.