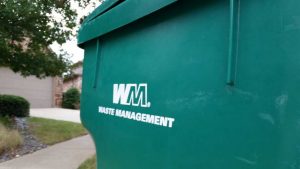 In response to trash and recycling pickup service issues, Lantana officials are weighing their options, and the clock is ticking.
Residents have complained of sporadic late or missed garbage and recycling collection since last summer.
"Waste Management continues to have issues," said Lantana General Manager Kevin Mercer.
Lance Butler, District Manager at Waste Management (WM), told the two Lantana Fresh Water Supply District (FWSD) boards in October that the problems began in late May, when trash pickup was hindered by flooding that closed their Lewisville facility and landfill.
"It took us about 3 or 4 weeks to overcome that," said Butler.
The problems that occurred since then were attributed to personnel and staffing issues.
WM is currently running three trucks in Lantana according to Mercer. After a meeting with WM regional management on December 18th, Mercer said they promised to add a fourth route, but has yet to do so.
On Tuesday, December 29th, WM missed three entire subdivisions and part of a forth neighborhood, Mercer said.
Lantana has been serviced by WM since the development's inception in 2001.
"Fourteen years of flawless service was completely undone in the past year," said Mercer. "I've given them every opportunity to right the wrongs and they just continue to not take it seriously."
After several months of negotiations, FWSD board members in July voted to approve renewing WM's agreement for five years with performance standards and penalties added in, but the new agreement has yet to be signed. The legal department at WM and the FWSD'S attorney are still reviewing the terms of the proposed contract.
The new agreement includes a 7-percent increase during the first year– which equates to $1.07 more per household per month– with subsequent yearly increases based on the Consumer Price Index (CPI).
In the meantime, the boards agreed last fall to extend the current contract for three months until March 31, 2016 to give WM time to work out their performance issues. But the problems continue.
"I don't know that they can ever undo the damage they've done with the residents," said Mercer. "They're never going to have a level of trust with them or respect."
The two FWSD boards will hold a special joint meeting on Monday, January 18, at 6 p.m. at the Lantana District Office in Bartonville Town Center to hear a formal presentation from WM rival Republic Services. The public is encouraged to attend.