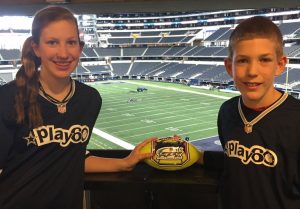 Jaxx Warren, 11, of Flower Mound, will be competing again in this year's 53rd annual NFL Punt, Pass & Kick National Competition. It is one of the nation's largest grassroots sports skills competitions.
Warren is one of 40 children, ages six to 15, who have advanced to the national championships through local, sectional and team championship competitions held throughout the NFL regular season. He qualified at AT&T Stadium during the Dallas Cowboys' game on Dec.19.
It's the third time he's reached the nationals, this time as a repeat in the Boys 10-11 age bracket. The Downing Middle School sixth-grader is an A student and has previously placed second and third in the national competition.
"He was a huge soccer player and plays competitive basketball with 3D Hoops Academy," said Wes Warren, Jaxx's father. "He has played as a quarterback on his FMYFA (Flower Mound Youth Football Association) team."
Finalists compete separately in five age divisions, with the top scorer in each age group crowned national champion. All participants launch two punts, two passes and two kicks with scores based on distance and accuracy (in feet). The best score from each activity is tabulated to determine the athlete's total.
Warren netted a punt of 119-feet, 6-inches; threw a pass for 100-feet, 9-inches; and, his kick went 85-feet, 4-inches. His total score of 305-feet, 7-inches places him first nationally in the Boys 10-11 division. Warren currently holds the kick-off-the-tee record for Boys 8-9 at 110-feet, 8-inches.
Not to be outdone, Jaxx's older sister, Alexandra, placed second in the same Dec. 19 competition in the Girl's 12-13 division. And, although she did not advance, she is proud of making it in the Team Championships and excited to see her brother advance to his third National Championship competition.
The final competition is on Saturday, Jan. 2, inside the Indianapolis Colts' practice facility, prior to the Sunday, Jan. 3, NFL game between the Indianapolis Colts and Tennessee Titans.
"This fun football competition rooted in fundamental skills continues to capture the imagination of young athletes, boys and girls alike," said USA Football Executive Director Scott Hallenbeck. "We congratulate our national finalists and look forward to an exciting weekend in Indianapolis."
USA Football is the sport's national governing body and the official youth development partner of the NFL and its 32 teams.
All participants and their guests are provided airfare, hotel accommodations and tickets to the Sunday, Jan. 3, game between the Indianapolis Colts and Tennessee Titans.
Champions will be recognized between the third and fourth quarters as well as at www.nflppk.com.