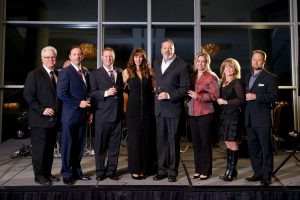 The Flower Mound Rotary Club has been raising money for international and local charities for almost three decades, and their "Vine and Dine" fundraiser on January 30 will mark the tenth anniversary of this popular event.
This fundraiser has grown each year, both in participants and number of charities it supports. This year's attendance is expected to exceed 300.
 Since the first Vine and Dine was held in 2007, the club has given almost half a million dollars to over thirty causes including the American Cancer Society, Big Brothers/Big Sisters, CASA of Denton County, Children's Advocacy Center for Denton County, Christian Community Action, Habitat for Humanity, Lewisville ISD Education Foundation, PediPlace and the YMCA.
Also included in this total is $40,000 in scholarships to local graduating seniors and over $10,000 to Rotary International's End Polio Campaign.
"Rotary has 1.2 million members worldwide who come together to create positive, lasting change in our communities and around the world," said Janet Ogletree, co-chair of the event. "Vine and Dine, the Flower Mound Club's premier fundraiser, is an evening filled with amazing people, wine, food and fun. During the wine stroll, guests will be able to sample many fine wines from around the world and then enjoy several courses of dining, where each course is paired with a specially matched glass of wine."
In addition to wine tasting, the event will feature dancing to live music performed by the band New Ground and a live auction.
"Our auction will feature nine or ten packages, many with themes such as sports, date night, and wine tourism. Each themed package will include several items related to the theme, such as tickets to professional and college games and rounds of golf for the sports package," said Kathy Duke, co-chair.
In addition to the auction, there will be other activities during the evening designed to raise funds in a fun and exciting manner.
"The Cork-Off drawing, for example, entitles the winner to choose any one of the auction items before the auction starts," said Duke.
The event will be held at Hilton Garden Inn on State Highway 121 in Lewisville. For a limited time, event attendees can reserve a room for the night at the hotel at reduced rates.
All proceeds from the event benefit the charities and civic service projects of the Flower Mound Rotary Club and Rotary International.
For more information and to purchase tickets, visit the Vine and Dine web page at www.flowermoundwinestroll.com.