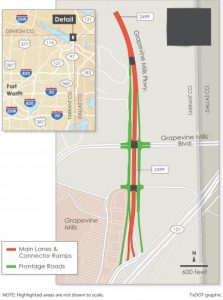 Starting Monday, Jan. 11, southern Denton County commuters will have a faster way to get to work.
The new, lowered southbound FM 2499 main lanes for commuter traffic through Grapevine below the existing frontage/service lanes will open, allowing commuter traffic to bypass the two traffic lights at Stars and Stripes Way and Grapevine Mills Blvd.
The FM 2499 improvements were included in the original $1.5 billion DFW Connector project, but at the start of construction, only $1.02 billion in funds were available. For this reason, certain elements of the project, including improving FM 2499, were removed from the contract.
When funds became available for FM 2499 improvements in 2013, TxDOT and NorthGate Constructors negotiated a plan to rebuild the $90 million portion of the original project.
Other projects to improve FM 2499 include: the replacement of an undersized drainage structure under FM 2499 near the FM 2499/Gerault intersection; the installation of a new drainage structure for the existing drainage structure that is running along the western side of FM 2499 to Denton Creek; the extension of the flyover lane into Grapevine; and, FM 2499/Gerault Rd. intersection improvements.
A professional services agreement with Northgate Constructors, providing for the preliminary design of the drainage improvements portion of the project, in the amount of $492,168 was approved by the Town Council on Dec. 15, 2014.
RTC approved $7M funding for the project on Jan. 15, 2015.
Amendment No. 1 to the PSA increasing the design contract in the amount of $383,092 was approved by Flower Mound Town Council on July 20. The alignment of the storm sewer box culvert is finalized. The project is 85-percent complete and approximately one-year ahead of its projected deadline.
In conjunction of the new southbound lanes being opened, there will be a full closure of the southbound FM 2499 service road at Hwy 121 to change the traffic pattern starting at 8 p.m. on Friday, Jan. 8.
Southbound FM 2499 traffic will be reduced to one lane at Denton Creek and then detoured to SH 26 to access SH 114, SH 121 and I-635; drivers on the service road should expect significant delays.
Access to SH 114, SH 121 and I-635 will be maintained. However, the southbound FM 2499 frontage/service road for Grapevine Mills Mall, businesses and apartment complexes will be reduced to one lane.
These FM 2499 lane restrictions will continue until 6 a.m. on Monday, Jan. 11.
For two additional weeks, between Monday, Jan. 11 through Jan. 25, the service road detour to SH 26 to access SH 114, SH 121 and I-635 will continue.
To access maps of the DFW Connector construction, visit:
http://www.dfwconnector.com/pdfs/Detour%20Maps/Southbound%20FM%202499%20at%20SH%20121.pdf