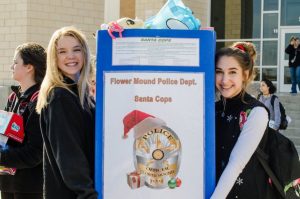 This year's Santa Cops program was a success, according to the Flower Mound Police Department.
The program, in its ninth year, is a combined effort by the FMPD and the Flower Mound Citizen's Police Academy Alumni Association to collect donations and Christmas gifts for children in Flower Mound who might otherwise not receive a gift.
Through many donations, FMPD was able to assist 109 families with 311 children collectively this year. Officers and volunteers distributed 1,500 toys and gift cards, including 43 bicycles and helmets. 
Each child received 3 to 4 gifts, and hopefully a sense of joy that Santa has not forgotten about them this holiday season.