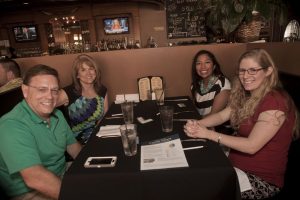 As the Argyle Chamber of Commerce continues expanding its membership, leadership felt it was time to develop a way to make new members more comfortable and thus the Ambassador Program was born.
Led by Max Miller, publisher of The Cross Timbers Gazette and a chamber member since 2007, the new initiative is being created to better integrate new members into the organization.
"It's very important to have this program because sometimes the ambassadors will be the first people the new members will meet and interact with," Miller said. "It will allow someone to hold their hand a little, get them involved, and let them know about all the different events and things they can participate in."
Another program goal is to help increase membership. By making sure new members feel comfortable and participate they will tell their business friends to consider joining.
The program will also encourage participation at chamber events including ribbon cuttings, breakfasts, lunches and mixers. New members will be introduced to current members at such events where they will be made to feel welcome.
"We're going to make them feel comfortable," Miller said. "We'll introduce them to everybody, encourage them and show them all the different things they can participate in."
To help make the new members immediately feel part of the organization, the Ambassador Program will put together and distribute new member welcome packets. These will include items donated by chamber members such as gift certificates, pens, and cozies.
To help keep new members updated on upcoming events, a text messaging system will be established to increase participation and engagement.
"Our events are successful by having a lot of folks there, as many new members as possible so they can see all the great things we do," Miller said. "The more people you get at an event, the more successful it becomes not only for those involved but for the business where we're holding the event."
One of the bonuses of joining the Argyle Chamber of Commerce is its extensive reach far beyond Argyle. That allows members to discover businesses they didn't even know existed which means more opportunities to network and grow their own businesses.
Plus, companies seeking ways to give back to the communities they serve can utilize the Argyle Chamber of Commerce's programs to help them meet that objective.
"You really get more involved in the community because you learn more about the local business owners who live right here and are contributing to the success of the community," Miller said.
"And one of the great things is we give back. A big cornerstone of this chamber is that we donate a lot of the proceeds from our events to local non-profits. It makes being a chamber member even more beneficial and fulfilling."