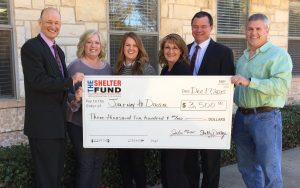 Journey to Dream, an organization working to establish the first shelter for homeless teens in Denton County, got a boost towards their goal from the community.
Journey to Dream's Director, Jessica Peter, and several board members were presented with a check for $3,500 from The Shelter Fund on December 17.
Because of a generous matching grant, the $3,500 donation will become $7,000.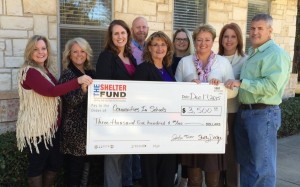 Communities in Schools of North Texas (CISNT) was also presented with a check in the amount of $3,500. Dana Smith, CISNT's CEO, and several of her board members were on hand to receive the check.
CISNT empowers students to stay in school and achieve in life.
The Shelter Fund raises money to donate to non-profits that provide assistance to homeless people.  First Mortgage in Flower Mound helps provide funds through The Shelter Fund.
John Fox, a loan officer with First Mortgage, said he believes in being part of the solution when it comes to assisting those desperately needing help with temporary housing.
Contact Fox at 972-899-9682 for more information.