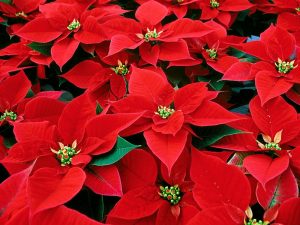 by Janet Laminack, Denton County Extension Agent-Horticulture
Plants make wonderful gifts, says the horticulturist. They are living, yet much less work than a puppy. If you still have some people on your shopping list or need hostess gift ideas, here are some for you.
Poinsettias are a Christmas staple.  Red is the traditional variety, but you can also commonly find white poinsettias.  For a more unique look, there are all kinds of mixtures of red and white available as well. Other popular plants this time of year are the Christmas and Thanksgiving cacti. These plants can grow for much longer than the holidays and don't seem to wear out their welcome quite as fast as the poor old poinsettia does.  They are also fairly easy to maintain and can rebloom the following year.
Amaryllis are commonly seen in stores this time of year. Along with other bulbs such as paperwhites and hyacinths, these can be grown indoors during the winter. They give people like me hope that spring will eventually come again by providing rapidly growing green stems and delightful flowers in January and February.
Living Christmas trees or miniature substitutes are also popular now. Examples of these are Norfolk Island pine and rosemary.  Rosemary has always been tricky for me to grow indoors, but it can be planted outside. Rosemary becomes a decent sized shrub and is drought tolerant. Norfolk Island pines, however, are tropical and will not tolerate temperatures below 35 degrees Fahrenheit.  They need to be kept indoors for our winters and treated like a houseplant.
Houseplants are a terrific gift idea. Green houseplants or those with variegated foliage are a softening touch in a room or office and provide fresh oxygen.  I think of flowering houseplants such as African violets and orchids as bouquets that keep on giving.
And of course, a fresh bouquet of flowers is a welcome gift. Their fleeting nature is part of the charm, feeling like a luxury or special indulgence. You can keep the gift going by purchasing a monthly service to have bouquets delivered throughout the year. Much like a fruit of the month club, which would be another nice and practical horticultural gift.
For children or the curious, there is the Venus flytrap. Yes, this plant is carnivorous and it's not the only one. Carnivorous plants are odd and fascinating even when they aren't catching insects because of their unique structural adaptations. This could be the perfect thing for "someone who has it all" or for becoming the strange one at work by bringing this to the office gift exchange.
Giving someone a tree or planting one in their honor is a lovely tribute. When I was a child, my grandparents planted a grove of pine trees and had my brother and I each select a tree.  Throughout the years, we loved to visit "our tree" and be photographed with it. Very quickly the trees outgrew us, well, except for my brother's tree which did sadly die. He took that in stride, but that does serve as a warning for planting a tree in honor of someone. Trees and plants don't live forever so be cautious that the plant is not too symbolic or tied with sentimentality. In case you are worried, my brother is doing just fine and he was the favorite grandchild, so I don't know why his tree died unless it was because he wasn't the budding horticulturist.
If you would like more information about how to grow any of these plants, let us know at 940.349.2892 or [email protected].  And you can visit us at www.dcmga.com or find us on Facebook.