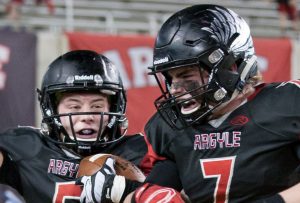 With just over a minute to play and the game tied at 17 all, Gage McCook took the ball and ran the 14 most important yards of his football career.
The final score of the state semifinal matchup between Argyle and Abilene Wylie would ultimately determine that it would be the Eagles facing Waco La Vega in the state championship, and not Wylie.
Argyle took a 14-0 lead in the game in the first quarter on touchdown runs from Dane Ledford and McCook, but Wylie came right back with 17 unanswered points and led by three at the break.
Caleb Holt drilled a 30-yard field goal in the third quarter to tie it 17-17 heading into the fourth quarter, and then McCook brought it all home for the Eagles.
Argyle will face the La Vega Pirates at NRG stadium in Houston at noon Friday in the Class 4A Division I title game.
La Vega enters the game with a 15-0 record and is coming off of a 39-3 victory over Carthage High School.
To win its second state championship in three years, the Eagles will have to slow the Pirates running game, which combined for 326 yards on the ground last week.
Senior defensive back and running back Parrish Cobb is the big player to watch for the Pirates. He scored twice on sweeps in the game against Carthage last week.
The game will be broadcast live on FOX Sports Southwest.