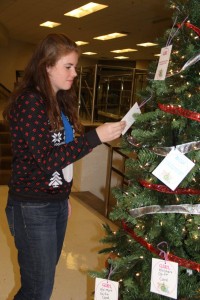 The Argyle Community Civic League teamed up with the Argyle High School Student Council and UNICEF Club to hold the Annual Angel Tree Community Event.
This year the event was a come-and-go dessert night featuring live music by Argyle High School students to assist the 31 families in need in the Argyle Community.
"At the event you could find community members along with their children there supporting the cause and picking out Angels," said Kris Wildeveld, the interim president for the Argyle Community Civic League.
Hilltop Elementary teacher, Daphyne Miller, brought some of her first grade students to the event s to adopt some Angels from the community tree, as did the Argyle Middle School Student Council and the Argyle High School National Honor Society students.
Wildeveld also said the civic league was thankful for the many people who worked together to make the event possible and truly grateful to the community and the local churches for their help in adopting Angels.
The Argyle Community Civic League is a local non-profit organization that provides for the needs of underprivileged children in the Argyle Independent School District.
Every year at this time, the Argyle Community Civic League organizes the local Angel Tree Program for children who qualify.
Also joining this event by placing Angels on their trees were: the First Baptist Church of Argyle, Argyle United Methodist, The Well, the Journey Church and Cross Timbers Community Church in Argyle.