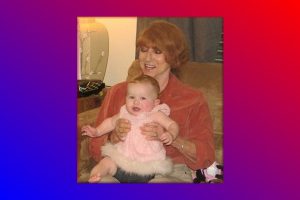 Well, I've not subjected you to stories about my granddaughters in quite a while now.  But all good things must come to an end.  At least I'm not standing in front of you with my iPhone shoved in your face.  I'd be doing this while frantically swiping through thousands of boring pictures…boring photos of the little darlings doing everything from picking their noses to flushing the can for the first time.  I do know people who do this.
I'd much rather relate their antics through writing because I don't believe a picture is worth a thousand words.
The biggest thrill I get is hearing Jaci (age 3 yrs. 3 mos.) say my name.  I go by CiCi and the way she says it makes me grin all over!  Her other grandma is called MeYahYah.  It's a mystery as to how Jaci came up with this one.  One theory is that she couldn't pronounce "my grandma" so she converted that into MeYahYah and it stuck.  No one knows for sure.
Jaci has a vast vocabulary for a child her age and yes, of course, I'd say that even if it weren't true, but it is.  She's at that age where you have to be careful what you say lest it come back to you in a surprising way.  We've all taken to speaking pig Latin when we don't want her to know what's being said but she's starting to parrot that back to us.  Probably won't be long before this becomes her second language.
With the aid of some block extenders she can now reach the pedals on her tricycle and goes like an atbay outa ellhay.  She and Cappy (that's what she calls my husband) recently had a wonderful trip up and down the sidewalk in front of her house.  Cappy, however, found he'd met his match.  Jaci, using the logic of a three year old, tried to convince him that crossing the street was a great shortcut to get back to the house.  Her dad's instruction before they headed out was, "Do not go in the street for any reason."  I don't have to tell you who won this match in spite of what my son had said.  Cappy would have been home free except Jaci doesn't grasp the concept of, "Let this be our little secret, okay?"
Jaci and I like to play "tea party" but about the time we get things set up, she's off to get another toy we can both enjoy.  This being the case, playing "tea party" never gets old.  And little sister, Gabby, helps us play sometimes.   However, since the cups and teapot are very tiny, Gabby gets steered toward larger items lest she ingests the cups and saucers.
Gabby turned one just a few weeks ago and had a bang up birthday party.  There were at least ten little urchins there accompanied by their parents.  Ken and I brought the cake but we way overshot how much we'd need.  We had an entire sheet cake which would feed a small army and ice cream to go on top.  Ken insisted this was a good thing so we could bring some home.  Our departure left kidlets and adults alike, bouncing off the walls.  And even after leaving gobs of chocolate cake with chocolate cream icing and Bavarian filling, we managed to have oodles left over which we shared with some neighbors and used the rest to add inches to our midsections.
Meanwhile, Amy (my daughter-in-law) had fixed a very small special cake, just for Gabby.  Some little kids freak out when they're overwhelmed by a bunch of loud people singing to them.  Not Gabby.  She grinned and seemed to know this was all about her.  While Gabby sat up tall in her high chair, Amy removed the toddler's dress and placed the cake in front of her.  The sweetest thing Gabby had ever had to eat (up until now) was fruit.  She gingerly stuck her fingers, then her face into the pink icing.  When she came up for air she looked totally confused.  Her expression said, "I'm not sure I'm supposed to have this but whatever it is, where has it been all my life?!!"
Gabbert (my son's nickname for her) is 'full steam ahead ambulatory.'  If you'd Google that phrase, her picture would appear right next to it.  She went directly from crawling to walking.  She's just at an adorable age and brings back memories of Jaci at that same time.  The two actually do play well together with just the right amount of sibling rivalry on Jaci's part.  This serves to keep things 'interesting' for their patient mom.
Gabby has the most beautiful curly red hair ever!  She gets it from her dad who got his from my mother, whereas I get mine from a bottle.  Her sister is a blonde so between the two Brad and Amy will have some eventful teen years to look forward to.  My husband loves to rub that fact in by telling Brad, "Can't wait for them to turn fifteen!"  I don't get why Ken seems to think fifteen is the magic number.  By the time these girls hit ten or eleven, the words "boy crazy" will have taken on a whole new meaning…now that's when the real fun will begin!  I really don't want to put a hex on Amy because she's such a sweetheart, but Brad will totally deserve the heartburn!
Read Cindy's column each month in The Cross Timbers Gazette newspaper.