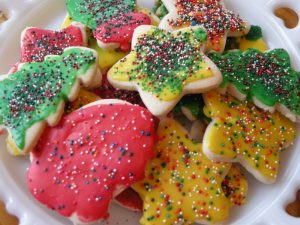 By Courtney Davis
December is a month filled with traditions, Holiday celebrations, gift giving and lots of delicious foods. During this time of celebration, it is important for us to think about ourselves and our health to prevent holiday weight gain.  Here are a few pointers to keep in mind:
When preparing for your holiday meal or gathering, consider making a few recipe substitutions to make your menu or dish a healthier one. Instead of fat, try using unsweetened applesauce, low-fat yogurt, or prune puree.
To reduce the sugar in a recipe without sacrificing sweetness, try using artificial sweeteners such as Splenda or NutraSweet, use cinnamon and vanilla to add sweetness or pureed fruit which will also add bulk to your recipe.
Reduce the salt content by seasoning with herbs and spices, using citrus zest, using vinegar or citrus juice or by adding hot peppers. Making smart substitutions is an easy change in which everyone can benefit.
If you will be attending an evening gathering, consider eating small, lower-calorie meals during the day so you can enjoy a special treat later.
Also, it is a good idea to eat a healthy snack right before the party as a hungry stomach can sabotage even the strongest willpower.
When you arrive at the party, don't rush to the food. Greet people you know, get a beverage (something lower-calorie is a good idea), and settle in first – away from the appetizer table!
When eating, try to use a smaller plate to help you reduce your portion sizes. You'd be amazed at how many calories you'll omit from your meal by doing this simple thing and you'll be just as full.
Be selective when choosing which foods you will eat. Try to make healthier decisions or choose those items that you really want to eat and make only one trip to the buffet.
Be realistic in your goal setting this holiday season. It's probably not realistic to try to lose 20 pounds between now and the New Year, but setting a goal for yourself to not gain any weight may be a more reasonable goal to set for yourself.
Also, don't forget the importance of exercise! Adding in extra exercise this holiday season may help to combat those extra calories that you may be consuming.
Lastly, have fun. This is a season to spend with friends and family and it is a season to enjoy. Don't forget the reason for our celebrations and be thankful for all that we have in this world. I hope that you and your family have a very healthy Christmas and very happy New Year!
Courtney Davis is the new Denton County Extension Agent for Family and Consumer Sciences.  She can be reached at 940-349-2882 or [email protected].