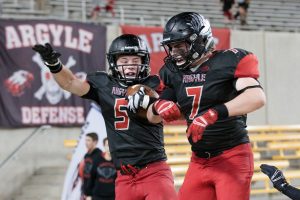 By Matt Davenport
​In a nail-biting state semi-final matchup, the Argyle Eagles were able to score a last-minute touchdown to defeat the Abilene Wylie Bulldogs 24-17 in McLane Stadium in Waco on Friday night.
Coming off a double overtime loss in the UIL state championship game last year, Argyle was able to defeat Wylie for the second time this year and advance to their third state championship in a row.
​After defeating Wylie 20-10 back in August, the Eagles knew they were going to have their hands full in the semi-final round.
​"I was very nervous to be honest," DE Shane McKinney said. "Abilene Wylie, they're a great team, well coached, and we knew it was going to be a tough game coming down to the end."
​Led by junior QB Dane Ledford, the Eagles grabbed a commanding 14-0 lead in the first quarter before the Bulldogs scored all 17 of their points in the second to take the lead 17-14 heading into halftime.
​"We came out on top 14-0, and I thought we were in pretty good hands," RB Gage McCook said. "But Wylie fought back, and we were down three, so Coach Rodgers kind of talked us up a little bit in the locker room, so we got back out and we just kept fighting."
​The story of Argyle's success came through the legs of Ledford and McCook. Each had a touchdown heading into the game's final moments, where, after a penalty called back a Ledford score, McCook ran down the left sideline for 14 yards and the game-winning touchdown.​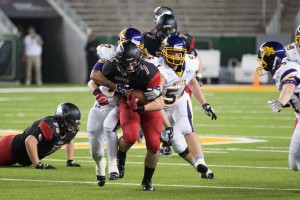 "Honestly, the last play Dane should've scored," McCook said. "Everyone was blocking on that play, and I don't think there should've been a block in the back. But I'm just glad. You should've seen the hole that was open when I scored, so I've got to give credit to the offensive linemen and the blocking outside. I'm just glad we came out on top."
​Led by senior DE Shane McKinney, who recorded an amazing three sacks in a 5-minute span, the defense was able to shut out Wylie's offense for three out of four quarters, including a stifling effort as the Bulldogs tried to mount a comeback with 56 seconds left.
"The second half adjustments really helped and allowed me to get to the quarterback," McKinney said. "It felt amazing that we held them to zero points in the second half."
Argyle is used to winning football games, and even losing players like Nick Ralston to Arizona State and Ian Sadler to Texas Tech over the past two years has not kept the Eagles from continuing their streak of championship game appearances.
"We've got some great players," McCook said. "I think we're better than we were last year with Nick (Ralston). He's a stud, but I think this year, just everyone – at our skill positions and as a whole – we just play better."
Eagle fans won't be quick to forget last year's exciting yet heartbreaking loss to end the season, and it's evident that the team is eager to return and stake their claim as the best football team in the state.
"We're back again and we're going to win it," McCook said. "I don't think we're going to go to double overtime this year, so we're going to go back to the locker room, have a great weekend, and go back to work Monday."
​Coach Todd Rodgers and the Eagles will play La Vega at noon next Friday in Houston in their fourth UIL state championship appearance in five years.