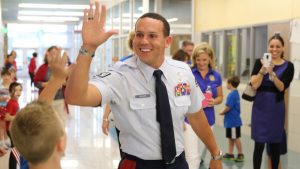 A welcome home celebration for wounded U.S. Air Force veteran, Retired Staff Sgt. Johnnie Yellock II, will be held Saturday at 10 a.m.
Lantana residents, local veterans and community leaders are partnering with the Helping A Hero nonprofit to host the event at 1604 Verbena Lane in Lantana.
Highland Homes partnered with Yellock to build his specially-adapted home in the Bandera subdivision of Lantana. Donations and sponsors from the community have played a large role in the finished product for this deserving veteran.
The event will include music and a tribute to this community-wide effort.
Yellock enlisted as a Combat Controller in the Air Force in 2007. During his second deployment overseas, he sustained life-threatening injuries to both legs in an IED blast. He has completed more than 30 limb-salvaging surgeries.
Yellock was awarded the Bronze Star, Purple Heart and Combat Action Medal for his actions that day. He medically retired from active duty on November 27 2013.
"We are excited at the opportunity to introduce locals to this incredible veteran in our 'Wounded Hero Home Program,'" said a Helping A Hero spokesperson. "Helping A Hero understands the critical role the community plays in the lives of these veterans as they adjust to their 'new normal.' We want to empower our Heroes by giving them a hand up, not a hand out."
The non-profit partnered with local businesses to build the house in which Yellock will make a home and plant roots in the Lantana community. Since the groundbreaking, Yellock has worked tirelessly to engage-in and become a contributing member of the tight-knit community.
He mentors children at Adkins Elementary and has led two assemblies. In addition, he was the honoree at Sip Shop and Serve at The Shops at Highland Village, as well as 2015 Lantana Golf Classic honoree and host.
Following the ceremony, those attending the event are invited to enjoy a walk-through of the special home that will finally allow Yellock the ability for daily independence.
About Helping A Hero
Helping A Hero is guided by the motto: "Empowering Wounded Heroes—One Home at a Time."
The Houston-based organization is a 501(c)(3) non-profit that provides specially adapted homes for severely wounded post 9/11 veterans. Through the generosity of patriots across the nation, Helping A Hero has awarded more than 100 homes in 22 states since 2006. These adapted homes promote transition from military to civilian life and allow wounded veterans to regain some of their lost independence.