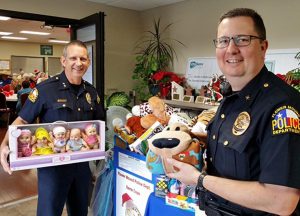 Our public servants have been under increased pressure this year, but that does not stop them from having a heart for the communities they serve, especially towards those that are struggling.
Three area police departments and one fire department are conducting toy and food drives to give underprivileged children and families something to smile about this holiday season.
Flower Mound
 The Flower Mound Police Department and the Flower Mound Citizen's Police Academy Alumni Association are holding the town's ninth annual Santa Cops Toy Drive.
The program collects donations and gifts throughout the year and then distributes them at Christmas to children in Flower Mound who might otherwise not receive a gift. Families and their children are selected only from the Flower Mound community.
Santa Cops is designed to be an outlet for those who want to make Christmas brighter for a child, as well as provide an opportunity for a positive interaction between the Flower Mound Police Department and those children who might perceive law enforcement in a negative light. The program continues its success fostering the idea that law enforcement does serve, as well as protect.
A donation, or the contribution of a toy, will help to make a Flower Mound child's Christmas one to remember.
To notify Santa Cops of a family who needs help on Christmas, fill out the form at: www.flower-mound.com/DocumentCenter/View/10639 and return it to FMPD in person at the Police Station, 4150 Kirkpatrick Lane, by emailing [email protected], via fax at 972-874-3316 or notify any Police Officer. The number of families that can be considered is limited only by the amount of toys and donations received.
All referrals must be submitted by 5 p.m. on Friday, Dec.  4.
To make a donation of toys or monies, contact the Santa Cops Program at: [email protected], or call Santa Cops Chairperson Doug Graves at 972-874-3339. To speak with the program coordinator, or for inquiries involving larger donations, contact Crime Prevention Officer Justin Buck at [email protected] or by calling 972-874-3357.
New, unwrapped, non-violent toys may be dropped off at: the Flower Mound Police Department at 4150 Kirkpatrick Lane; Flower Mound Town Hall at 2121 Cross Timbers Rd.; Flower Mound Senior Center at 2701 West Windsor Dr.; Community Activity Center at 1200 Gerault Rd.; Flower Mound Library at 3030 Broadmoor Lane; Flower Mound Animal Services at 3950 Justin Rd.; Bridlewood Amenity Center at 5000 Par Dr.; Chili's (north) at 6251 Long Prairie Rd.; Cristina's Mexican at 6424 Cross Timbers Rd.; Cloud 9 Salon & Spa at 1651 Justin Rd.; Curves at 870 Parker Square.; Enzo's Pizza at 900 Parker Square.; Lifetime Fitness at 3100 Churchill Dr.; Presbyterian Hospital Flower Mound at 4400 Long Prairie Rd.; NCTC Flower Mound Campus at 1200 Parker Square.; Salerno's Restaurant at 407 Long Prairie Rd.; Tour 18 at 8718 Amen Corner; Trio Coffee at 2628 Long Prairie Rd.; and Wellington Amenity Center at 3520 Furlong Dr. E.
The Santa Cops Toy Drive runs until Dec. 9.
Bartonville
The Bartonville Police Department is teaming up with the Argyle ISD and conducting its annual Blue Santa Program. The drive helped over 40 children last year
A "Blue Santa" giving tree is located inside Bartonville Town Hall, 1941 E. Jeter Rd., with wish tags for each child. Items may be donated anytime during business hours, 8 a.m. to 4:30 p.m.
Some suggested items: warm blankets, gloves, hats and grocery cards. While all children are on the free lunch program at school, they may not eat as well at home when school is out.
Monetary donations and grocery store gift cards are now being accepted and may be taken to the Bartonville Police Department/Town Hall.
The deadline for contributions is December 14th.  For more information, call 817-693-5280.
Highland Village
The Highland Village Police Department is sponsoring their "Help for the Holidays" canned food and toy drive to benefit the local Salvation Army.
"We so often don't realize how many in our community will go without or have very little under their tree this year. And, every year we are astounded by the generosity of our community," said Police Chief Doug Reim. "The donations of canned food and gifts for the kids of all ages make the Christmas season a joyous one for these families."
For more information, contact the HVPD at 972-317-6551.
Not to be outdone, the Highland Village Fire Department will sponsor its Santa Day on Saturday, Dec. 19 from 1 to 4 p.m. at the Highland Village Fire Station, 1200 Highland Village Rd.
There will be a bounce house, cookies, hot chocolate, face painting and the opportunity to take a picture with Santa. It is an opportunity to bring a new, unwrapped toy to the station to benefit the Children's Advocacy Center of Denton County (CACDC).
"Santa makes a special stop in Highland Village each year," said Fire Chief John Glover. "You will see him riding through the neighborhoods with the Fire Department the week of December 13 to 18."
For more information, contact the HVFD at 972-317-3913.