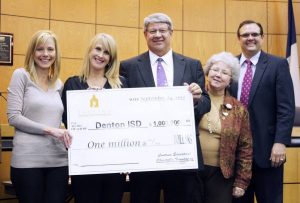 A change in the law is keeping donations from the Lantana Education/Charitable Foundation closer to home.
The new law that went into effect in 2013 restricts giving to only schools and charities located in or adjacent to areas where fees from home sales are collected that fund the foundation. Previously, there were no geographical boundaries to where the foundation could give.
One-half of one percent of the sale price of all real estate within Lantana goes to the foundation. The fee is tax-deductible when you sell your home.
The law change limited the foundation's giving to the three elementary schools and one middle school inside Lantana, but excluded Guyer High School and southern Denton County charities outside of Lantana that benefit Lantana residents.
"Basically Guyer High School is too far for us to legally give them money. It has to be spent in Lantana or adjacent property no more than a thousand yards away," said Tara Boswell, Lantana Sales Manager.
"The way the law read previously, we could give money to all kinds of places as long as they were 501c3's (nonprofit organizations). Now, it has to be a qualified charity on Lantana property."
The Lantana Education/Charitable Foundation was created in 2001 to fund projects such as advanced educational programs, scholarships for Lantana students and other charitable endeavors.
As of September, the foundation had donated over $8 million, with $5.1 million going to schools in the Denton ISD, $1.8 million to medical non-profits, $522,500 to educational organizations, and $739,029 to other charities. The foundation reported a balance of $1,384,091.
In 2001, the foundation committed $1 million to the Denton ISD, enabling E.P. Rayzor, Lantana's first elementary school, to open in 2002. Subsequent similar donations helped the school district build Blanton and Adkins elementary schools, as well as Harpool Middle School, in Lantana.
Past recipients of grants included Borman Elementary School in Denton, Communities In Schools of North Texas, Irving Cares, the American Diabetes Association, The Arts of Collin County, Mayo Foundation for Medical Education and Research, UT Southwestern Medical Center at Dallas, the Jewish Community Center of Dallas and Cross Timbers Family YMCA in Flower Mound.
The foundation was founded in 2001 by Republic Property Group, the original lead developer for the community. Austin-based Forestar Group Inc. acquired the remaining partnership interest in Lantana from Republic in 2014 and now oversees the foundation.
"Once Forestar took on the property we started digging into it and figured out what we can and cannot do," said Boswell.
The foundation's board of directors includes Boswell, a 12-year Lantana resident, and fellow Forestar employees Tom Burleson and Darrel Amen.
With limitations on giving, Lantana's on-site schools stand to gain a much larger piece of the pie.
"I would love to figure out a way to give it to Guyer and believe me we met with attorneys all summer long trying to figure out ways to give it to Guyer but legally we cannot," said Boswell.