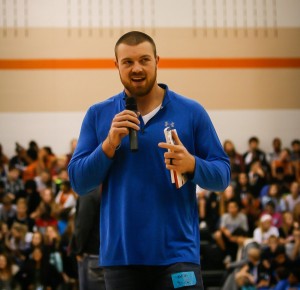 NFL free agent, Jake Byrnes, spoke to Harpool Middle School students in Lantana on Nov. 13 about living with type 1 diabetes as part of Diabetes Awareness Month.
Byrnes was diagnosed with diabetes at the age of 15 and published a book about his experiences in controlling the disease while pursuing a professional football career.
Byrnes played for the University of Wisconsin as a tight end and went on to compete in the NFL. Originally with the New Orleans Saints in 2012, he has also been a Houston Texan, Kansas City Chief, and San Diego Charger.
To increase awareness, Harpool students with type 1 diabetes created a T-shirt and produced a video. The school also held a fundraising walk to collect donations for the Juvenile Diabetes Research Foundation.
Each day, 40 children in the U.S. are diagnosed with type 1 diabetes.