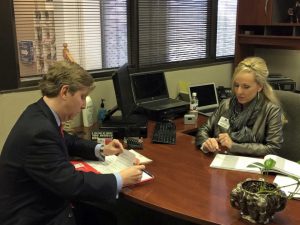 Filing is underway for the March 1, 2016 Denton County Republican and Democrat Party primary elections.
Here is a list of candidates in our area that have filed for office as of Tuesday:
State Representative District 63, Tan Parker, REP, Flower Mound
State Representative District 64 Rick Hagen, REP, Denton
State Representative District 64, Connor Flanagan, DEM, Denton
District Judge, 16th Judicial District, Sherry Shipman, REP, Denton
District Judge, 393rd Judicial District, Doug Robison, REP, Denton
District Judge, 442nd Judicial District, Tiffany Haertling, REP, Denton
Constable Pct. 1, Johnny Hammons, REP, Denton
Sheriff, Will Travis, REP, Argyle
Sheriff, Tracy Murphree, REP, Sanger
Sheriff, Randy Butler, LIB, Denton
The filing period for candidates to submit their applications for a place on the ballot began on Saturday and runs through Monday, December 14.
Early voting in the primaries will be held from Feb. 16-26, 2016.