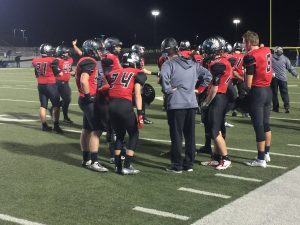 by Mitchell Mason
The Argyle Eagles wasted no time dispatching of Lake Worth, building a 49-0 halftime lead and eventually winning 70-7 to advance to the area round of the playoffs.
It only took three plays for the Argyle offense to get on the scoreboard, when Dane Ledford found JC Chalk, and he sprinted down the sideline for 42 yards.
Lake Worth (4-7), which had an experienced offensive line, had no chance against Argyle's defense, and quarterback Monta Kimble had very little success, only passing for 6 yards.
Two possessions later, Argyle RB Taylor Sweatt ripped off a 69 yard run, and Drew Estrada found the end zone to make it 21-0.
Later, Ledford found WR Scott Smith, who danced 74 yards down the sidelines to increase the lead to 35-0, with still minutes to go in the 2nd quarter.
The Argyle defense was stout the entire night, only allowing a score late in the game when mostly reserves had entered the game.
Ledford had one of the best games that a quarterback can have, throwing a perfect 8-for-8 for 254 yards and 3 scores.
Sweatt picked up 121 yards and 2 TDs on just 6 carries. If Sweatt had to describe the game in one word? "Smooth." It was smooth sailing for the Eagles with many of their starters on the sideline during the second half, keeping them well-rested as they begin to face tougher challenges in the later rounds.
Argyle (10-1) will next face off against the winner of Friday night's Pittsburg-Crandall matchup at a time and date to be determined next week.